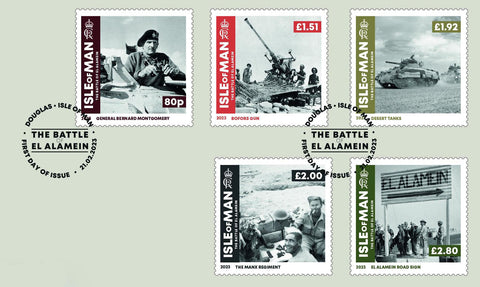 World War II's Desert Victory At El Alamein—In Stamps
Eight decades ago, the victory of the British Eighth Army led by Gen. Bernard Montgomery at the Second Battle of El Alamein in 1942 marked a decisive turning point in World War II. Church bells rang for the first time since the start of the war. The military forces fielded by Nazi Germany began their slow tailspin into defeat.
Recommended for you
The victory is still remembered vividly today by people on the Isle of Man. Many Manxmen served in Monty's Eighth Army, fighting in North Africa and Italy as well as on Normandy during the D-Day landings. With this heritage in mind, the Isle of Man Post Office has issued a new collection of stamps to commemorate Monty and the victory.
"The military is a very strong theme for us. We always try to have a military topic in our issue program every year," Maxine Cannon, General Manager at Isle of Man Stamps and Coins, told HistoryNet in an interview. "We focus really on showcasing, celebrating and commemorating across all our stamps."
Designing the Stamps
A great deal of care and attention to detail went into creating the commemorative stamps, which are available worldwide for interested collectors. The images pay tribute to Montgomery and the achievements of the Eighth Army while highlighting the service of Manxmen in a special way.
One of the stamps depicts men of the Manx Regiment with a Bofors gun, which was used heavily by the regiment not only as an anti-aircraft gun but also as an antitank weapon. Another one shows men of the regiment at ease in the desert, which is a standout for Maxine.
Ivor Ramsden of The Manx Aviation and Military Museum provided assistance with identifying and selecting photos to represent the Manx Regiment for the collection. (Isle of Man Post Office)
"I think my favorite would be the two-pound stamp where the guy is having a smoke," she said. "I like the casualness of it."
The stamps were created with the help of volunteers from The Manx Aviation and Military Museum, led by Ivor Ramsden MBE, who are especially knowledgeable about the men who served in the Eighth Army. "They have so much material available to them in the museum that we wanted to celebrate the great things that they do as well," Maxine said.
A New Royal Approval
Viewers will notice that the stamps feature the cypher of King Charles III, who ascended to the throne of the United Kingdom in the wake of the passing of his mother Queen Elizabeth II on Sept. 8, 2022. The transition from the former monarch to a new one is part of the reason for the delay in the stamps' release.
"The intention was to get the issue out in October [2022] but with the demise of the monarch in September we didn't have royal approval for the stamps," said Maxine. "So we had to resubmit them with the new cypher of King Charles III and therefore they were released on February 21."
It did not deter the team from their decision to commemorate El Alamein. "The story we felt was still very important and relevant," said Maxine. "This collection is dedicated to all those who sacrificed, fought valiantly and triumphed in what Winston Churchill described as a 'glorious and decisive victory.'"