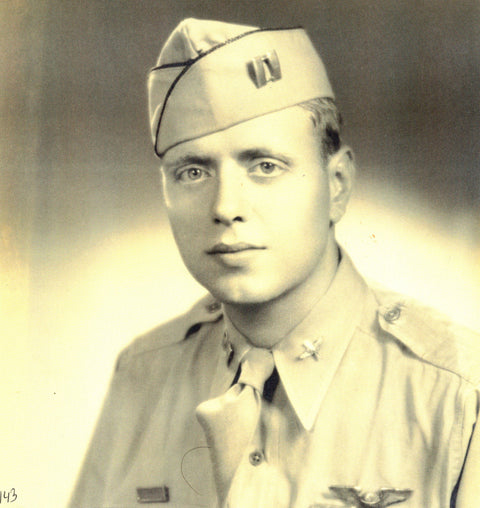 This WWII Veteran's Memoir Is Slated to Be Part of the Next 'Band of Brothers'
Why should anyone read a reprint, especially one that originally came out over 22 years ago?
For CNN correspondent Chloe Melas and her mother, Elizabeth Murphy, that answer comes readily.
"It's not just somebody who's going to like military history that reads 'Luck of the Draw,'" Melas told HistoryNet. "It's really a great page turner. It's a personal story about this one man's account."
That one man's record just happens to be her grandfather's, Frank Murphy, who was a B-17 navigator within the "Bloody" 100th Bomb Group, one of five B-17 bomb groups sent to England in the spring of 1943 to form the new 4th Bomber Wing.
Luck of the Draw
by Frank Murphy, Griffin, February 28, 2023
If you buy something through our site, we might earn a commission.
"It lasted only four months — four months, however, in which were compressed many of the most exciting, and all of the most frightening and life- threatening, experiences I have known in my entire life," Frank Murphy wrote in his 2001 memoir, "Luck of the Draw."
Along the same ilk as "Helmet for My Pillow" or "With the Old Breed," Murphy's account will soon be on the silver screen with Apple TV+'s "Masters of the Air."
Based on Donald L. Miller's book of the same name, "Masters of the Air" is expected to follow American bomber pilots of the U.S. Eighth Air Force, who, on a daily basis, risked flying at 25,000 feet in frigid temperatures — in broad daylight — to bring the fight to Hitler's doorstep.
Among those men is Murphy, who will be featured in the series and played by actor Jonas Moore.
Sitting on Jeep L to R: Lt. Frank Murphy and Lt. Charles Cruikshank. Standing far right is Capt. Albert "Bucky" Elton, 418th Sq. Operations Officer. Others kneeling and sitting L to R: Lt. Augie Gaspar, Lt. Glenn Graham and Lt. Burr, 418th Sq. Intelligence Officer.
"Masters of the Air," the third installment of the trilogy that includes "Band of Brothers" and "The Pacific," reunites Steven Spielberg and Tom Hanks as well as "Band of Brothers" writer John Orloff, who also served as a consultant on "The Pacific."
The Eighth's effort to pry Europe from the claws of the Third Reich — one that included unleashing 697,000 tons of bombs — proved to be overwhelmingly costly. By war's end, over 47,000 of the 115,000 U.S. Army Air Force casualties were from the Eighth.
"The Eighth Air Force was one of the great fighting forces in the history of warfare," famed war correspondent Andy Rooney once wrote.
"It had the best equipment and the best men, all but a handful of whom were civilian Americans, educated and willing to fight for their country and a cause they understood was in danger — freedom. It's what made World War II special."
Frank Murphy and a fellow crew member while aboard their bomber, Bastard's Bungalow.
In "Luck of the Draw," Murphy details what essentially amounted to flying in a frigid tin can, flying over 126 hours over occupied Europe before being shot down over Regensberg during what was later known in the U.S. Army Air Force as "Black Week" (October 8-14, 1943).
Murphy later describes the missions as "a staccato succession of trials by fire on a scale unprecedented in aerial warfare."
Arrested by German police, "Murphy shares the highs and lows of his internment in the infamous Stalag Luft III, later made famous by the Hollywood feature, 'The Great Escape.' The men survived freezing conditions, near-starvation and a last-minute forced march as the Russian Army approached. He was liberated on April 29, 1945," according to the press release.
"My dad would never have considered himself a hero, he would have always just said he was just an ordinary young man — which he was. For me, it just made me realize, I mean, he's always going to be my hero, but also how much grit and will to live he possessed," Elizabeth Murphy told HistoryNet.
"He had marched through the snow using newspaper on their feet. He had these old wooden shoes that he bartered to help him survive. It's a miracle that he did because when he was released he was very sick. He had pneumonia. He was skin and bones. It's amazing he survived. Thank God, he survived."
Frank Murphy's prisoner of war identification card, Stalag Luft III, Eastern Germany.
For the mother and granddaughter duo, however, their recollections differ. For Elizabeth, the details of her father's personal fight during World War II were never fully told.
For Melas, the opposite.
"The stories that I heard about his time in World War II were told at the dinner table and were told on weekends when I spent the night at my grandparents' house."
Melas continued, "I didn't really understand what he truly went through until I was in college when I got this really deep longing to want to connect to him more."
That desire continued to grow, even after the passing of Murphy in 2007.
For the past several years, Melas has spearheaded the push to republish her grandfather's memoir, telling HistoryNet "I said to my family and my grandmother, we really need to publish grandfather's book. It was pretty much self-published; it came out with a small publisher called FNP. The man who published it, by the name of John O'Neill, was also in the Eighth Air Force, although not the 100. [O'Neill] published food and nutrition books, but what he offered was basically a step up from self-publishing. Nobody really got their hands on it other than people really in that specific community."
Now, thanks in part to Melas, Murphy's story will be seen by fans of "Masters of the Air," but most importantly, it will hopefully read by them as well.
As to why it's an important story to tell?
It "really just comes down to love," says Melas. "I just love my grandfather. And it's a great story. And if anybody out there had a grandparent or a family member who they felt like had a great story, and they just loved them so much, they'd be shouting it from the rooftops too. So, I'm not saying that grandpa had some experience that many of my friends' grandparents didn't have, they just might not have it written down on paper. But we do have it. And there aren't that many accounts like my grandfather's."
historynet magazines
Our 9 best-selling history titles feature in-depth storytelling and iconic imagery to engage and inform on the people, the wars, and the events that shaped America and the world.