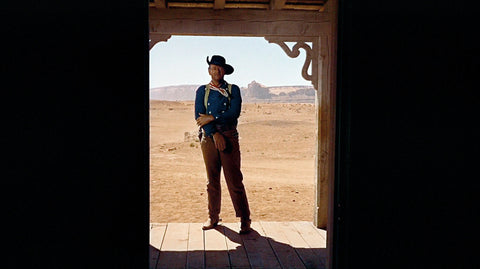 The Search is Over
According to such noted directors as Martin Scorsese, John Milius and Curtis Hanson, among many others, the best Western of Hollywood's golden era is the 1956 epic "The Searchers," a film that should have garnered John Ford a fifth best director Academy Award and John Wayne his first best actor Oscar. It failed to receive a single nomination.
It failed in part because the sensibilities of modern viewers are too easily offended. Critics did and continue to declaim the film for its depiction of racism, for example, but Wayne's performance as Indian-hating Confederate veteran Ethan Edwards is compelling precisely for the naked hostility he exudes onscreen for his Comanche foes. Tellingly, such critics tend to overlook the equal hatred Chief Scar (Henry Brandon) shows for Edwards.
Here, Ford and screenwriter Frank S. Nugent (and novelist Alan Le May before them) take a page from the actual history of frontier Texas, where the mutual loathing between settlers and Comanche raiders persisted for long and bloody decades. Texians (as pre-republic settlers were known) fought back bitterly when raiders descended to drive off livestock, burn their ranches and murder their families. Eventually, the settlers formed small companies of well-armed Texas Rangers who took the fight to Comancheria, burning out Indian villages, killing warriors and using captive women and children as bargaining chips.
Comanches also took captives, of course, and that brings us to Ford's central reference to a well-known episode of Texas history — the tragic life of Cynthia Ann Parker, mother of Quanah Parker, last of the Comanche war chiefs. Captured at age 9 during an 1836 murder raid in east-central Texas, Cynthia was recaptured by Texas Rangers 24 years later. By then she had "turned Comanch," as Ethan might put it, and for the remaining decade of her life she mourned for her lost adoptive family. Parker is buried not among her Texan relatives but beside her Comanche son and daughter.
In the film the captive girl, Ethan's niece Debbie, is played in turn by sisters Lana and Natalie Wood as child and young woman, respectively. Viewers feel Debbie's vulnerability in equal measure when cast in the shadow of her captor, Scar, and while on the verge of being dashed to pieces on the desert floor by her ultimate rescuer, Ethan.
The aesthetics of the film are undeniable. Max Steiner's musical score spans the emotional spectrum, from sweeping to tragic, threatening, mournful and, yes, carefree. Ford's direction mirrors that with his usual deft blend of tragedy, action, suspense, playful romance and other necessary lighthearted touches. The sets and scenes are uniformly painterly. Foremost is the majesty of Ford's beloved Monument Valley. Anyone who's seen the film — or seen it scores of times, like your editor — will recall such scenes as the river crossing, in which Ethan demonstrates his utter lack of mercy toward his Indian foes; the buffalo hunt, in which he bangs away with a Winchester into a panicked herd to deny the Comanches winter provisions; or the wedding dance, the bells of women's skirts bouncing by at ankle level to the strains of "The Yellow Rose of Texas."
Apart from and above them all is the closing scene. As family and friends enter a ranch house to resume their quest for domestic tranquility on the frontier, Ethan — alone, unwanted and fated to forever wander, as the theme song reinforces — turns and ambles off into the desert, the door closing behind him.
And the Oscar goes to…
historynet magazines
Our 9 best-selling history titles feature in-depth storytelling and iconic imagery to engage and inform on the people, the wars, and the events that shaped America and the world.