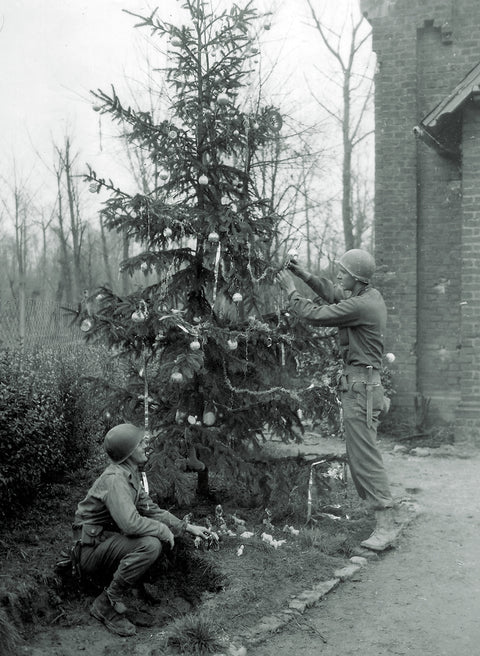 O, Tannenbaum
Christmas could be a tough time for Americans in the military during World War II. For many of the young men off fighting, their first Christmas in uniform was also the first holiday they had spent away from home. Kim Gannon, Walter Kent and Buck Ram captured that feeling in their wistful song "I'll Be Home for Christmas," which was a hit for Bing Crosby in 1943.
It's no wonder that soldiers tried to capture, however fleetingly, the feeling of a normal holiday. This photo, taken on December 21, 1944, was captioned, "Yanks Prepare for Christmas in Captured German Town." In it, Pvt. Robert F. Engleman of Washington, D.C. (left) and Pvt. Robert S. Frick of Philadelphia, Pennsylvania, attempt to create some holiday spirit by decorating a tree in the town of Ederen. The soldiers belonged to a field artillery unit.
At the time, the war in Europe had reached a critical point. The Germans had launched the Ardennes Offensive to the south of Ederen five days before this picture was taken. That battle raged into January, but the eventual Allied victory defeat spelled doom for Nazi Germany.
"Following D-Day in June 1944, the home front began to smell victory ahead," Stanley Weintraub wrote. "That winter, the cost of Christmas trees dropped sharply. Trees that had been priced at $4 the year before were now $2.50, while trees sold 'on the stump' ranged from 25¢ to 45¢, for the fewer fathers around to cut them. Continuing deprivations included silk for dresses, cuffs on trousers, whiskey for grownups, and bubblegum for kids. The Office of Price Administration announced the return of canned vegetables to the ration list, and increased restrictions on butter, sugar, and meats. On Christmas Eve, President Roosevelt spoke to the nation and the armed forces by radio from his home at Hyde Park, saying, 'The Christmas spirit lives tonight in the bitter cold of the front lines in Europe and in the heat of the jungles and swamps of Burma and the Pacific islands.'"