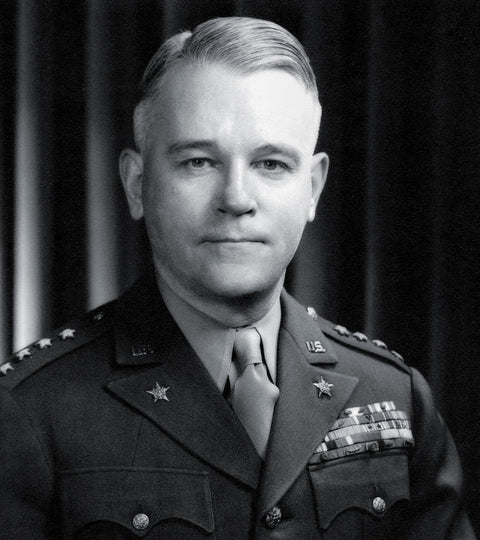 He Told Eisenhower That South Vietnamese President Diem's Government Would Fail — in 1955
Gen. Joe Lawton Collins, a former top World War II commander also known as "Lightning Joe," had a great deal of battlefield experience under his belt as well as a great deal of common sense. Collins served as a special U.S. representative in Vietnam from 1954-55, where he developed a dim — and accurate — view of South Vietnamese leader Ngo Dinh Diem, who would later be overthrown and assassinated in 1963.
A top-secret memorandum from April 22, 1955 shows that Collins reported to U.S. President Dwight D. Eisenhower at the White House that Diem's government was doomed to fail. Yet Eisenhower continued to support Diem, allowing the prophecy to fulfill itself — a grand total of eight years later, and after the Kennedy administration, struggling to deal with Diem, reached the same assessment as Collins.
The now-declassified 1955 memorandum, recorded by a presidential aide, notes that Collins reported that "the state of affairs in Saigon had reached the point where, in his opinion, the continuation of the present government under Diem was no longer supportable."
Collins explained that Diem was an inept and controlling leader, who "lost his Cabinet Ministers one by one" and had filled their vacant positions by "appointing himself" to their roles. For example, Diem was serving as his own Defense Minister and Interior Minister. In addition to lacking management ability, he "is completely intractable, unwilling to accept suggestions, and using such poor judgment, as General Collins sees it, in his efforts to maintain his government, that his government will inevitably fall."
Collins cited Diem's two brothers meddling in political affairs and "went on to describe a number of instances wherein Diem had been persuaded only at the last minute not to do some utterly foolish thing."
"Many other instances were cited by General Collins, but the net of it is that he feels now that this fellow is impossible…He sees no future for the government so long as it remains on the course that it is, under the leadership of Diem."
Collin's conclusions were more than just accurate — they were insightful, to the point of being practically visionary. His views were not cloaked in bureaucratic circumlocutions nor buried in a pile of official papers. These clear and direct words were spoken in person to the U.S. president. What was Eisenhower's response?
"I would say that the session amounted to a mere reporting to the President of the state of affairs, and that no decisions were made," wrote Dillon Anderson, Special Assistant to the President, at the end of the memo. The words "no decisions were made" have a chilling effect in light of what would occur later.
As time passed, Collins persisted in attempting to persuade Eisenhower to find alternatives to propping up Diem's leadership of South Vietnam, later describing in a 1981 TV interview that he "finally had to report to Washington that rather than waste additional money in supporting an army for Diem and giving continued economic aid, that we would finally have to decide whether we were going to do that or whether we were going to try some alternative. And, I finally recommended that, unless Diem could broaden his government, could show political acumen to manage the country, then we ought to finally withdraw our support."
Ignoring Collins' reports and advice, Eisenhower continued to support Diem. With Eisenhower's backing, Diem pulled out of the general elections for a unified Vietnam stipulated by the 1954 Geneva Accords and instead solidified his own power in South Vietnam.
In May 1957 — two years after Collins had put Eisenhower in the picture about the truth of South Vietnam's failing leadership — Eisenhower greeted Diem at the airport in Washington D.C. when the South Vietnamese premier arrived for a state visit. Flown in from Hawaii on Eisenhower's personal plane, the Columbine III, Diem was given the rare honor of a personal greeting by the U.S. president on arriving as well as a 21-gun salute. Eisenhower publicly hailed Diem as "the greatest of statesmen" and Diem was celebrated by the U.S. media. The president invested a vast amount of American resources in Diem's government. Eisenhower sent military advisers to Vietnam in addition to about $2 billion in aid from 1955 to 1960. By the time Eisenhower's presidency ended, the Viet Cong and Diem's forces were already clashing in open combat.
Eight years after Collins' accurate but unheeded 1955 report, Diem was assassinated in the aftermath of a November 1963 coup. An unpopular leader, he had lorded over South Vietnam with an iron fist, propping up corrupt family members and persecuting local Buddhists. He had alienated his own people and lost the support of the South Vietnamese military.
Tape recordings of President John F. Kennedy speaking with members of his administration in 1963 show that U.S. officials looked favorably on Diem's overthrow, at the very least. Diem had been unwilling to change his draconian style of rule, limit the powers of unethical family members or cease to harass Buddhists. Consequently U.S. government leaders felt they could no longer support him.
It was the conclusion that Collins had reached almost a decade earlier…except by this time, America was already inextricably politically entangled in Vietnam and military involvement was escalating. In 1961, Kennedy sent some 500 Special Forces troops to Vietnam, and by 1962, an estimated 11,000 U.S. military advisers were "in country."
The 1955 memorandum contradicts the common but superficial view that Diem started off as a somewhat promising leader in the eyes of the U.S. under the Eisenhower administration but that corrupt ways caught up with him in in the end.
Instead, Diem's incompetence and inflexible arrogance were already known at official levels at a very early stage — but, inexplicably, no changes in U.S. strategy were made to alter the course of tragedy that would unfold for both America and Vietnam.
Would the Vietnam War have happened had Collins' reports and repeated advice been heeded by Eisenhower in 1955? It's something we can only debate and speculate about. But it is worth thinking about.
Politicians, some people say, always make a mess of things. But do they really have to? Are the messes they make–which affect so many people's lives—really unavoidable? Are there perhaps turning points when leaders have an opportunity to put the brakes on a bad situation, and if so, why do they so often choose not to do it?
So much information was concealed from the American public both before and during the Vietnam War, but we can be grateful that the Collins memorandum, and other high-level documents like it, are available to the public today so that we can examine political decision-making firsthand and develop our own conclusions.
historynet magazines
Our 9 best-selling history titles feature in-depth storytelling and iconic imagery to engage and inform on the people, the wars, and the events that shaped America and the world.