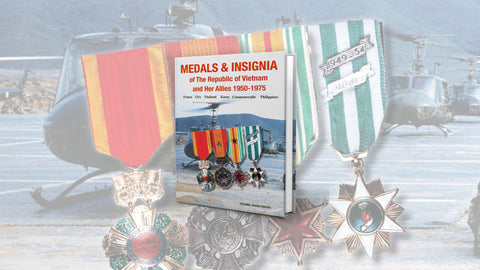 South Vietnamese Forces Honored in Catalog of Medals
Medals & Insignia of The Republic of Vietnam and Her Allies 1950-1975, by retired Army Col. Frank Foster, gives readers a glimpse into a once prominent military organization that is fading fast from public consciousness.
The author, publisher of Medals of America Press, served in Vietnam in the 173rd Airborne Brigade and on the General Staff of U.S. Army Vietnam, a logistics and administrative support organization. He produced the book with assistance from John Sylvester Jr. and Ngan Dinh, formerly of the Airborne Division of the Army of the Republic of Vietnam.
Foster sees the book as more than a detail-rich catalog of medals and their history. He also hopes it helps perpetuate the legacy of those who served in South Vietnam's armed forces.
It's almost 50 years since the 1975 fall of Saigon, and Foster writes: "You can expect to find fewer original South Vietnamese made awards available. The knowledge and information on the Republic's awards system is also disappearing. We hope this book will preserve the memory of the Republic and of its awards to the men and women who fought so hard for its preservation."
The book is an authoritative guide to all awards issued by the Republic of Vietnam, as well as those of its allies during the war, including the United States, the Commonwealth, South Korea, Thailand and the Philippines. Medals from colonial occupier France's war in Vietnam are also displayed. One example is the Dragon of Annam (the ancient Chinese name for a French-ruled region in what is now Vietnam).
Crisp images of medals, ribbons and insignia are accompanied by short histories and explanations of their symbolism. Foster explains how the medals were intended to be worn. He also provides information about the manufacturers and variations of awards. Ratings reflecting the rarity of particular medals on the militaria market will be helpful for collectors. Additionally, the book has pages on police medals and awards issued to youths and civilians.
This reviewer was particularly interested in the Kim Khanh decoration, awarded to Vietnamese citizens and foreigners who "distinguished themselves by exceptional achievement which helped develop human relations and understanding between peoples and between nations." The Kim Khanh, an award with traditionalroots revived by President Ngo Dinh Diem's government in the mid-1950s to early '60s, was intended for civilians but could be bestowed on senior military officials.
Unlike other awards, which evolved conceptually from French and American designs, the Kim Khanh was of unique Vietnamese origin. Fashioned in the shape of a traditional Vietnamese gong, it featured five stalks of bamboo, an open scholar's scroll with a writing brush and two dragons. Adorned with colorful tassels and beads, it was worn around the neck. The Kim Khanh was reserved for men. A version for women was called the Boi, with one of its later designs incorporating phoenixes.
The book also includes illustrations of South Vietnamese uniforms, badges and insignia, with a particularly fine-looking spread depicting imagery of shoulder sleeve insignia from the 1970s.
"Orders, decorations and medals are symbols of courage and merit, as well as human vanity," Foster writes. "They are, also perhaps, enduring fragments and mementos of history."
Providing a clear window into the past, Foster's book highlights South Vietnam's military culture as well as the rich symbolism and history of awards from various nations united in a common purpose during the Vietnam War. It will be greatly appreciated by collectors and readers seeking to enhance their knowledge of military awards and insignia. —Zita Ballinger Fletcher
This book review appeared in the Autumn 2022 issue of Vietnam magazine.
Medals & Insignia of The Republic of Vietnam and Her Allies 1950-1975
By Col. Frank Foster
MOA Press, 2020
This post contains affiliate links. If you buy something through our site, we might earn a commission.