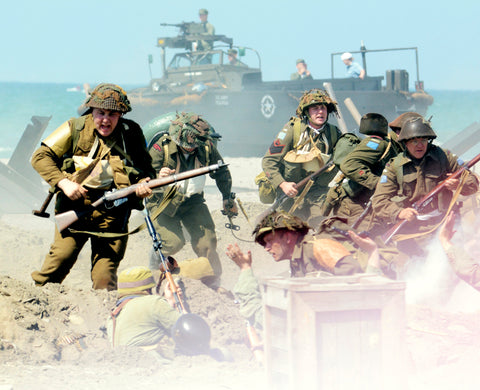 The World's Largest D-Day Reenactment Is Happening This Week — in Ohio
Looking for a war-themed event to spice up the summer? The small Ohio town of Conneaut on Lake Erie might have the answer. Every year since 1999, Conneaut has hosted the world's largest D-Day reenactment.
An estimated 1,200 military reenactors — 600 representing Allied forces and 600 representing the German military — participate in the three-day event, which draws an estimated 40,000 visitors a year from across the United States and around the world. About 200 volunteers participate in the event and seek to educate visitors about various aspects of World War II history.
Beginning on Aug. 18, reenactors playing the roles of British, American and Canadian troops will "assault" a 250-yard-long beach using landing craft including DUKWs, LVTs and Higgins Boats. After hitting the beach, they proceed to "battle" German troops as they attempt to ascend a hill in an imitation of the Normandy landings on June 6, 1944.
GET HISTORY 'S GREATEST TALES—RIGHT IN YOUR INBOX
Subscribe to our Historynet Now! newsletter for the best of the past, delivered every Wednesday.
Close
Thank you for subscribing!
Email
Submit
Reenactors in real mustangs
The event showcases a variety of World War II vehicles, planes and weaponry. Guests are treated to flyovers by both authentic and replica P-51 Mustangs, B-26 Marauders and C-47s as well as the firing of blank blasts from contemporary guns and artillery.
Other fights will be reenacted in different areas of Conneaut Township Park, including those between Germans and French Resistance fighters, and Allied paratroopers.
Event organizers place a special emphasis on honoring veterans. Veterans are invited to share their war stories, offered a ride on a World War II Higgins boat, given reserve seating and invited to attend a spaghetti dinner in addition to being invited to participate in veteran-related programs taking place throughout the event. In addition, the organizers offer transport to veterans with mobility challenges.
The 2022 event will be somewhat "scaled back" because of inflation, but visitors with a love of history can look forward to what is probably the most faithful recreation of the events of "The Longest Day" in the world today.
historynet magazines
Our 9 best-selling history titles feature in-depth storytelling and iconic imagery to engage and inform on the people, the wars, and the events that shaped America and the world.