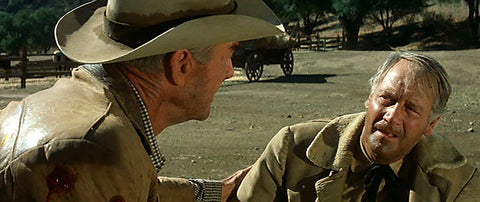 Last Ride in the High Country
In his 1962 Western "Ride the High Country" director Sam Peckinpah deals with a theme he would address again seven years later in the far more violent and harder to love "The Wild Bunch" — old friends who lived by the gun facing their obsolescence at the close of the Western frontier. Aging actors Randolph Scott and Joel McCrea, long established Western heroes on film, ride side by side to the crude mining camp of Coarsegold in California's beautiful Sierra high country to transport gold bullion back to the civilized world of banks, motorcars and uniformed policemen.
McCrae's Steve Judd intends to do the job to the best of his ability ("All I want is to enter my house justified"), but Scott's Gil Westrum wants the gold for himself and strays from the cowboy code. In the end — and "Ride the High Country" has the best ending in the world of Westerns — neither rides off into the sunset. The concluding scene has Westrum, who has redeemed himself in a "meet them head on" gunfight with the bad guys, tell his dying partner, "I'll see you later," before Judd takes a last look at the high country and slumps to the ground.
That poignant death scene caps off a magical Western with a wonderful cast that includes James Drury, L.Q. Jones, Warren Oates, John Anderson and John Davis Chandler as the lowlife Hammond brothers; Edgar Buchanan as a drunk judge who gives a sober speech about the challenges of a good marriage; and Mariette Hartley as a young lady who hopes that marriage to one of the Hammonds will allow her to escape her domineering religious father. Peckinpah's heartfelt Western marked the end of the film trail for Scott, who retired afterward, and was McCrea's final starring (or, in this case, co- starring) role. "It's my all-time favorite Western," says Gregory Lalire, the editor of Wild West from June 1995 until October 2022. "I loved it when I was young, when my son was young (we memorized much of the dialogue together) and certainly now that I can fully relate to whatever happened to Randolph Scott. "
historynet magazines
Our 9 best-selling history titles feature in-depth storytelling and iconic imagery to engage and inform on the people, the wars, and the events that shaped America and the world.