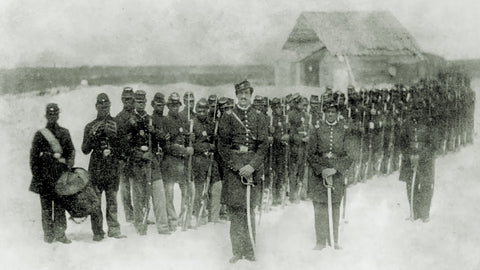 'Men of Color, To Arms!'
In order to keep New Orleans in Union control and bolster troop numbers, General Benjamin Butler, in August 1862, issued General Orders No. 63 ordering the enlistment of free men of color in New Orleans. From this order arose three regiments of the Louisiana Native Guards.
Organized in October of 1862, the 2nd Louisiana Native Guards, pictured here, was mustered into service and initially all but one of the company officers were considered men of color. Colonel Nathan Daniels was in command and the enlisted men signed up for three years of infantry service. Recruits varied in age from 17 to 56 and in experience including skilled tradesmen like cigar makers, masons, coopers, printers, slaters and engineers.
The regiment guarded railroads and key points in the greater New Orleans and La Fourche areas, and performed patrols and confiscated supplies intended for Confederate forces. In mid-January of 1863, Companies B, C, D, F, G, I, and K were deployed to defend Ship Island, where this image was taken. Companies A, E and H took up station at Fort Pike, Louisiana. Soldiering on the island consisted of guarding prisoners, military drills, working parties, and the maintenance of defenses. Company D, G and I received additional schooling as heavy artillerists.
historynet magazines
Our 9 best-selling history titles feature in-depth storytelling and iconic imagery to engage and inform on the people, the wars, and the events that shaped America and the world.