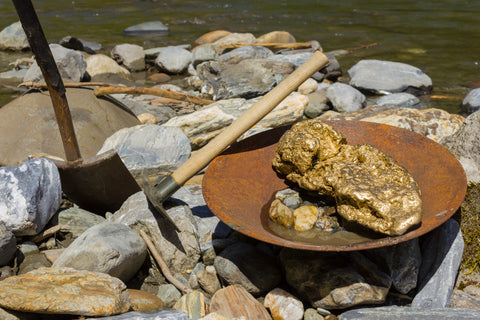 California is Having Another Gold Rush. Here's Where to Try Your Hand at Panning.
It's been an incredible winter of punishing storms in California, particularly in the Sierra Nevada. And although the storms have had a devastating effect on many mountain communities in the state, a silver (or should we say gold?) lining is that the water that has blasted through rock crevices and rivers, leading to a sudden uptick in discoveries by prospectors, as reported by the New York Times.
The original site of the California Gold Rush, the region is seeing a second revival in rockhounding. Here's where you can pan in California's Gold Country and beyond. Of course, if you go, be sure to respect these local rules and regulations (and the environment) on your journey.
South Yuba River State Park
South Yuba River State Park meanders along a 20-mile stretch of the Yuba River, which is not only a great spot for paddle boarding, swimming, and eye-popping leaf peeping, but also panning for gold. In the Bridgeport area, you'll find the visitor center, a historic covered bridge, and river access. A fun bonus is that the nearby towns of Grass Valley and Nevada City are ideal bases for lodging, dining, and shopping. Be sure to check out the California government regulations on panning here.
Merced River
Wild in spring, in summer the Merced River is enjoyably tame as it flows through the Yosemite Valley. It's an incredible river to raft, but also a beautiful location for panning. The Briceburg Area off Highway 140 allows for limited gold prospecting using non-motorized equipment in the tributary. And bonus, even if you don't strike it rich, you're in one of the most gorgeous parts of the state.
Colombia State Historic Park
Columbia State Historic Park is like a Gold Rush version of Colonial Williamsburg. Saunter down wooden sidewalks where you'll encounter friendly townspeople dressed in historical garb. Observe a working blacksmith, hitch a ride on a stagecoach, or try to knock down the wooden pins at an old fashioned bowling alley. Kids will love learning how to pan for gold here. There are plenty of charming BnBs to stay in in the area, too, or check out Hotel Lumberjack, a modern mash-up of a classic American motel and lumberjack culture.
Trinity River
Shasta-Trinity is a stunning national forest that's a prime location for camping and fishing. It is a major tributary of California's Klamath River that begins in the rugged Trinity Alps noted for its salmon and steelhead fishery resources, as well as its attraction for rafters, kayakers and canoeists. There are places for roadside picnics everywhere, and if you ever get tired of forest views, and there are some spots to pan as well. The most productive placer deposits in the Klamath Mountains have been those associated with the Klamath and Trinity Rivers and their tributaries. To find tips on panning in the area, check out the county's site and guidelines.
Downieville
The story of Downieville, off State 49 in the foothills above Nevada City, has the quintessential tale of Gold Country. When Major William Downie and his crew discovered gold here in 1849 at the Forks―where the Downie River joins the north branch of the Yuba―thousands of hopeful fortune-seekers moved into the soon-to-be-renamed town. In less than a year, the area's population topped 5,000, 15 hotels lined the streets, and miners were taking up to $1,500 daily in placer gold out of the earth. The town was the nexus of Gold Country activity; some even thought Downieville had a strong chance at becoming the state capital. Although its population has dropped to 325, Downieville's brick buildings and beautiful location remain. The place has even experienced a modern-day boom―on a smaller-than-Gold Rush scale―as mountain bikers have discovered the area's challenging trails off Lavezzola Road. It's the perfect place to try your hand.
---
Originally published by Sunset, our sister publication.