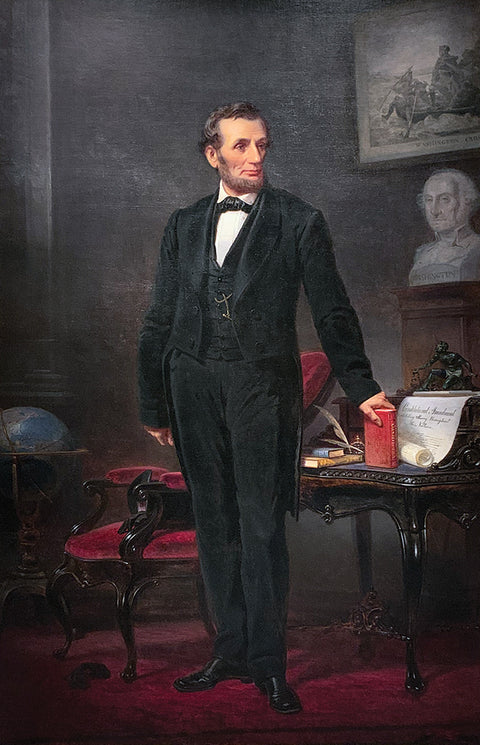 'Old Abe' is 9 Feet Tall in Rare Lincoln Portrait
The National Portrait Gallery in February unveiled a rare portrait of President Abraham Lincoln. The nine- foot-tall portrait, painted by W.F.K. Travers in 1865, is one of only three known full-length renderings of the 16th president and will be on loan to the Smithsonian gallery in Washington, D.C., for the next five years.
The painting, which hung for decades in a municipal building in a small New Jersey town, has been restored and is now part of the "America's Presidents" gallery.
Lincoln sat for Travers in 1864 and Travers completed the oil painting in Germany shortly after Lincoln's assassination in April 1865. Travers then sold the painting to an American diplomat living in Frankfurt. In 1876, the painting was displayed at an exposition in Philadelphia, where Mary Todd Lincoln was reportedly, "so overcome by its lifelike appearance that she fainted and was carried out of the hall."
Rare painting of President Abraham Lincoln.
For years, it hung in the U.S. Capitol while Congress considered whether to purchase it, but it was ultimately sold to the Rockefeller family. In the 1930s, Geraldine Rockefeller Dodge—daughter of William Jr. and niece of John D.—built the Hartley Dodge Memorial Building in memory of her deceased son and filled it with art, including the Lincoln portrait.
In 2017, an archivist discovered that a marble bust of Napoleon sitting in the corner of the council room of the Hartley Dodge Memorial Building had been sculpted by Auguste Rodin, prompting the foundation to reassess all of the art in its collection. The loan of the Lincoln portrait to the National Portrait Gallery is part of that reassessment.
In addition to Lincoln's likeness, the painting is filled with symbols noting the president's place in history. He stands in front of a bust of George Washington and a rendering of the painting "Washington Crossing the Delaware" by Emanuel Leutze. Lincoln's hand rests on a bound copy of the Constitution, next to a scroll bearing a draft of the 13th Amendment. Behind the scroll is a small statue of an African American man rising as he pulls the chains from his body.
This story appeared in the 2023 Summer issue of American History magazine.
historynet magazines
Our 9 best-selling history titles feature in-depth storytelling and iconic imagery to engage and inform on the people, the wars, and the events that shaped America and the world.