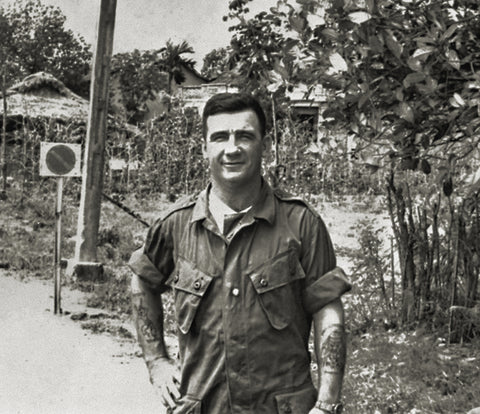 He Went AWOL to Save a Stray Dog and Refused to Leave His Comrades. Meet Australia's First VC Recipient in Vietnam
Victoria Cross.
Kevin "Dasher" Wheatley was the first Australian soldier to be awarded the Victoria Cross during the Vietnam War. Born in a suburb of Sydney in 1937, he enlisted in the Australian Army at age 19. He trained as an infantryman and served a combat tour with the 3rd Battalion, Royal Australian Regiment in Malaya between 1957 and early 1959. Advancing through the ranks to Warrant Officer Class 2, he deployed to South Vietnam in 1965, assigned to the Australian Army Training Team Vietnam. Wheatley earned the nickname "Dasher" due to his rugby skills and was known for his compassionate streak. He was once punished for going AWOL to save a stray dog and gave treats to local children in Vietnam. "He was a hard man, but there was a big soft side to him, too," his son George later recalled.
During one of his first actions with ARVN regular troops in Quang Tri Province, Wheatley rescued a 3-year-old Vietnamese child who had wandered into the crossfire, running into the line of fire to shield her with his own body. In August 1965, Wheatley was working with U.S. advisors to coordinate an ARVN attack on a VC-held village. As the VC defenders faltered, Wheatley launched a one-man assault up a steep slope that finally broke the position. The senior U.S. advisor recommended Wheatley for the Silver Star, but the paperwork went into bureaucratic limbo because of Australian policies regarding the acceptance of foreign awards.
That September, Wheatley was assigned to a team under Capt. Felix Fazekas operating in coordination with U.S. 5th Special Forces Group in the Tra Bong District of Quang Ngai Province. On Nov. 13, Fazekas, Wheatley, and Warrant Officer Class 2 Ron Swanton were advising a Vietnamese Civil Irregular Defense Group company conducting a search and destroy sweep 15 kilometers east of the Tra Bong Special Forces Camp. Fazekas accompanied the CIDG platoon on the left flank. Wheatley and Swanton accompanied the platoon on the right. At about 1:30 p.m. Fazekas' platoon drew fire from a small VC detachment that fell back. The right flank platoon ran into a well dug-in company-sized force. Swanton was hit immediately in the chest. The CIDG platoon on the right started taking heavy casualties and scattered.
Calling for medical evacuation for Swanton, Wheatley half-carried, half- dragged his wounded comrade under heavy automatic weapons fire across 200 meters of open rice paddies into a safer area. He was accompanied only by a CIDG medic, Pvt. Dinh Do, who told Wheatley that Swanton was dying and had no chance of recovery. As the VC closed in, Wheatley ran out of ammunition. The CIDG medic withdrew as the VC closed to within 10 meters, urging Wheatley to do likewise. Refusing to leave Swanton, Wheatley held a grenade in each hand. As he retreated, the medic heard both grenades go off. The bodies of Wheatley and Swanton were recovered the next morning. Both men had died of gunshot wounds; Fazekas later wrote in his after-action report that both had been shot several times at close range.
When Wheatley initially was recommended for the Victoria Cross, it generated a certain amount of controversy. Australia at that time was still under the system of British imperial military awards, which required final approval of the British government. But Britain had refused to support America's war in Vietnam, and there was some opposition to the award of Britain's most prestigious decoration. In the end, Wheatley's magnificent heroism and sacrifice overcame all bureaucratic resistance.
After his remains were repatriated, Wheatley was buried with full military honors at Sydney's Pinegrove Memorial Park. The South Vietnamese Government awarded Wheatley the National Order of the Republic of Vietnam, Knight's Degree; the Military Merit Medal; and the Gallantry Cross with Palm.
Miraculously, Wheatley's U.S. Silver Star recommendation finally emerged from the bureaucratic maze. It was presented to his son, George, in December 2021.
Retired U.S. Army Maj. Gen. David T. Zabecki is Vietnam magazine's editor emeritus.
This story appeared in the 2023 Summer issue of Vietnam magazine.
historynet magazines
Our 9 best-selling history titles feature in-depth storytelling and iconic imagery to engage and inform on the people, the wars, and the events that shaped America and the world.