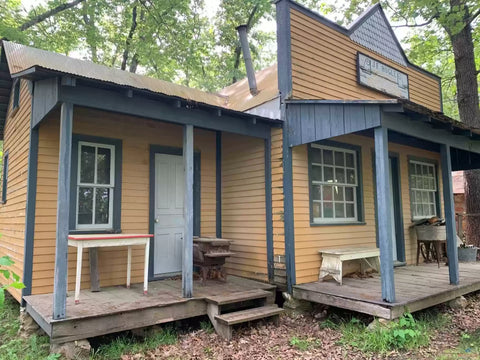 You Can Own Your Own 1800s Theme Park in the Ozarks for $295,000
There's living in a historic home — and then there's living in a history theme park.
If you have a hankering to do the latter, then take a gander at this former Lake of the Ozarks 1800s-themed attraction — it's up for sale for the low, low price of $295,000.
24025 Cumberland Gap Ave., in Warsaw, Missouri, was once a theme park that, for $3 a pop, taught tourists from 1979 on what life was like in the region in the 19th century. On its 20 acres sits a blacksmith shop, steam-powered grist mill, a big cabin called Duckworth Tavern that was the former's park's restaurant, a schoolhouse, general store, jail, woodshop, cook shack, post office, wood house, sheds, ticket booth, gazebo, one-bedroom cottage, outhouses, henhouses and a two-car garage that held a working forge.
"We ground cornmeal out of the steam-powered grist mill, and visitors would watch that and follow the cornmeal to the tavern, where my mom served food like chili, beef stew and ham and cornbread — which the visitors watched us make from the cornmeal from the grist mill," the property's owner, Marion Shipman, said in a phone interview.
Two of the cabins on the property are original log cabins from the area — the tavern dates to 1841, when it was used as the home for Warsaw's schoolteacher. The smaller cabin dates to 1838 or 1939 and was probably the home of a local trapper named Fristoe, Shipman said. Most of the other 20 or so buildings were built from reclaimed wood from 19th-century barns that Shipman and his brother turned into the little village that sits there today.
Shipman came up with the idea to turn what had been his grandmother's land into a history-themed attraction as a boy and then "halfway dragged my family into it" when he turned 20. (He was influenced heavily by Silver Dollar City in Branson, Missouri.) He decided to make it a working village in the 1870s — he wanted it to look like the residents might have just gotten word of Lt. Col. George Custer's defeat at the Battle of Little Bighorn. Shipman closed down the attraction in the early 2000s.
Though it was never a big source of income for Shipman, he hopes whoever buys the property might consider reviving the attraction now that the area's become an even bigger tourist hub — though it's not a requirement for sale.
"Someone could come in and make a pretty good go of it," he said.
historynet magazines
Our 9 best-selling history titles feature in-depth storytelling and iconic imagery to engage and inform on the people, the wars, and the events that shaped America and the world. Sale! Save $7.99 on your subscription today!