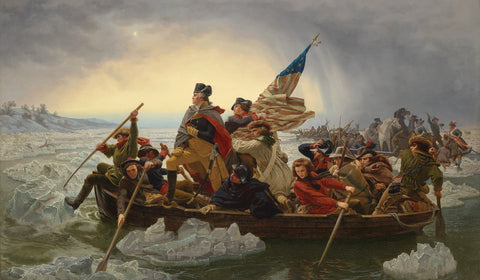 What's Wrong With This Picture? Washington Crossing the Delaware
German immigrant Emanuel Leutze's monumental painting Washington Crossing the Delaware is undoubtedly a stirring rendition of Continental Army Gen. George Washington and troops en route to capture Trenton from the Hessians on the night of Dec. 25–26, 1776. Historically speaking, however, it falls short, perhaps in part because Leutze painted the 149-by-255-inch oil on canvas in 1851—75 years after the fact.
Historians have flagged several mistakes, including the furled Stars and Stripes (Continental troops flew the Grand Union), the conditions (the crossing took place around midnight amid a snowstorm—albeit hard to capture), the vessels (Washington's men crossed in larger flat-bottomed Durham boats) and the river (the Delaware is not as wide where they crossed).
The celebrated version on display at New York's Metropolitan Museum of Art is actually a duplicate. The original hung in the Kunsthalle Bremen art museum until destroyed by a 1942 RAF bombing raid during World War II. A privately owned 40-by-60-inch version displayed at the White House from the 1970s through 2014 was the highlight of a recent auction at Christie's in New York, fetching just over $45 million, more than double its presale estimate.