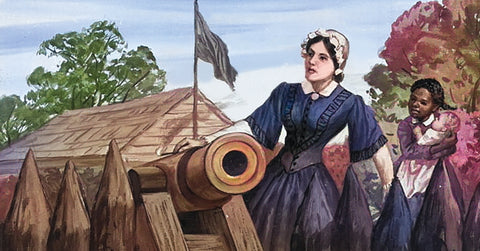 This Brave Wife and Mother Was the Betsy Ross of Texas
Jane Long had been left alone at coastal Point Bolivar, Texas, with a 5-year-old daughter and a newborn to tend. A 12-year-old slave girl named Kian was there to help, but she too had to be fed and sheltered. Long grew increasingly nervous as hostile Karankawa Indians gathered across the channel on Galveston Island to eye the all-but-abandoned Point Bolivar outpost. On top of everything else winter had come.
In 1819 the United States and Spain signed the Adams-Onís Treaty, which ceded Florida to the former and defined the border between the States and the shrinking viceroyalty of New Spain. Opposed to the pact were many American and French settlers in the South. Among them was James Long
Born Jane Herbert Wilkinson in Charles County, Md., on July 23, 1798, she was the last of 10 children and experienced trials early in life. A year after Jane was born, her father died. In 1811 the Widow Wilkinson moved her children to the Mississippi River town of Washington, the capital of Mississippi Territory (present-day Mississippi and Alabama). But a year later she died, orphaning the children. Jane moved in with older sister Barbara and husband Alexander "Sandy" Calvit, a captain with the territorial militia, at Propinquity Plantation near Natchez. It was there in 1815 she met and married Dr. James Long, who had served as a U.S. Army surgeon under Maj. Gen. Andrew Jackson at the January 8 Battle of New Orleans, the climactic clash of the War of 1812. The couple settled at Long's nearby plantation, Walnut Hills, where their first child, daughter Ann, was born a year later.
But trouble was soon again brewing. In 1819 the United States and Spain signed the Adams-Onís Treaty, which ceded Florida to the former and defined the border between the States and the shrinking viceroyalty of New Spain. Opposed to the pact were many American and French settlers in the South. Among them was James Long, who promptly gathered some 300 men—including Jim Bowie and Ben Milam—for an invasion of Spanish Texas. (He also sought in vain to recruit French pirate Jean Lafitte. who had participated in the fighting at New Orleans). On arrival in Texas in June 1819 the expedition captured Nacogdoches, and Long's followers presumptively proclaimed him president of the first Republic of Texas. Later that month, days after having delivered her second child, a girl named Rebecca, Jane left their daughters in the care of sister Barbara and joined her husband. But his term in office and the republic itself were short-lived. In October a Spanish army drove out the would-be filibusters. Sadly, during her parents' absence from the States, infant Rebecca had died.
Around 1820 Jane designed this banner with a red field and white star that may have been Texas' first 'Lone Star' flag. (Glasshouse, CC by-SA 3.0)
Escaping to Natchitoches, La., Long immediately began recruiting men for a second expedition into Texas. Finally, in April 1820 he headed to the Gulf Coast with Jane, daughter Ann and the slave girl Kian to his new headquarters at Point Bolivar, opposite Galveston Island at the mouth of the namesake bay. There his men erected a crude mud fort defended by a single cannon. Around this time Jane is said to have designed a flag for the expedition, featuring a red field with a single white five-pointed star (she later added 13 alternating red-and-white horizontal stripes and moved the red field and its white star to the canton, echoing the American flag). Jane dubbed it the "lone star," intending it to represent her husband. The flag may have been the first "lone star" flag in Texas.
After more than a year at the remote outpost, perhaps seeing the handwriting on the wall, men started to desert. Regardless, on Sept. 19, 1821, an undeterred Long kissed his wife goodbye and boldly sailed off with most of his remaining 56 filibusters to fight the Spanish. Unknown to anyone at Point Bolivar, he was captured at La Bahía within days of having landed in Texas. Meanwhile, in the company of three other civilians and just four soldiers, Jane, daughter Ann and Kian were about to face one of the worst winters on record.
This 1872 lighthouse overlooks the spot at Point Bolivar once occupied by filibuster James Long's long gone mud fort. (Anna Donnarumma/Dreamstime)
Pregnant with her third child, Jane resolved to wait at Point Bolivar for her husband's return. But in the coming weeks and months, as supplies dwindled and no word came of the expedition's fate, the other settlers began leaving, and the soldiers deserted. Eventually, only Jane and the two girls remained.
When the provisions gave out, the trio survived on fish and oysters scavenged from the bay. All the while the Karankawas on Galveston Island watched and waited. Jane kept them at bay by periodically firing the cannon, making them believe the outpost remained occupied and as formidable as ever. Some accounts claim she flew a red petticoat from a pole in imitation of a battle flag and donned a uniform left by the deserting soldiers to further carry on the deception.
On December 21 the dauntless 23-year-old, with the preteen Kian's help, delivered daughter Mary James in the cold comfort of an ice-covered tent. Finally, with the spring thaw in 1822, a party of Texas-bound American settlers landed at the outpost, bringing the sad news that on April 8 James Long had been shot dead by one of his guards in Mexico City. With no more reason to hold the fort, Jane finally left Point Bolivar with her daughters and Kian.
According to family lore, several famous Texans courted the "Mother of Texas," but Long died a widow on Dec. 30, 1880. (Galveston & Texas History Center)
After visiting Mexico City to inquire about her husband's death, Jane spent the next decade dividing her time between Texas and Mississippi. In 1832 she bought William Tennant Austin's Brazoria, Texas, boardinghouse and ran it for five years. Three years later it hosted a dinner party to welcome back Stephen Austin (no relation to William Austin) from his own imprisonment in Mexico City. In 1837 Jane moved to land granted her by that "Father of Texas" in newly incorporated Richmond, where she opened another boardinghouse and started a plantation south of town. By the 1861 outset of the Civil War she'd acquired 19 slaves and more than 2,000 acres of land. After the war she continued working the land with the help of tenant farmers. Daughter Ann, who lived nearby, died at age 53 in 1870.
According to family lore, over the years Widow Long was courted by—and refused marriage offers from—Stephen Austin, Ben Milam, William Travis and Sam Houston. Jane died a widow at age 82 on Dec. 30, 1880. Since her death various authors and boosters have erroneously credited her with having given birth to the first child born in Texas to English-speaking parents, which was not true. Several had been born before Mary entered the world in an ice-covered tent. Nonetheless, the monument atop Jane Long's grave at Richmond's Morton Cemetery bears the inscription THE MOTHER OF TEXAS. WW
this article first appeared in wild west magazine
Facebook @WildWestMagazine | Twitter @WildWestMag