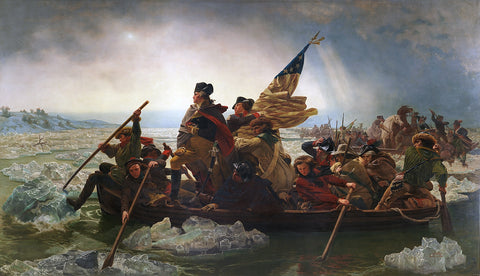 Washington Crossing the Delaware — A Christmas Classic
Emanuel Leutze (1816-1868), a German-American painter, helped cement the December 1776 American victory at Trenton, New Jersey, in the American mind with his 1851 oil painting, "Washington Crossing the Delaware." The painting is a romantic depiction of the event to be sure, but Leutze's symbolism is powerful. The boat's passengers represent the breadth of American society, from emigrants, to marginalized people, to tillers of the land.
Among the white soldiers in the boat, a Scotsman wearing a traditional Scottish bonnet and an African American sit backward in the bow. At the stern of the boat a soldier proximately wearing Native American quill-worked bag and "Indian leggings" pays homage to the original inhabitants of North America. His face is partially obscured, but it's darker tone may be a suggestion that he is, in fact, a Native fighting for the American Cause.
Lt. James Monroe, future President of the United States, is seen next to Washington holding the flag, while Gen. Nathanael Greene leans over the side and Gen. Edward Hand holds his hat against the raging winter wind.
Leutze painted three versions of the painting, and it's quite fortunate that he did. The first version was on display in Germany when it was destroyed by a bombing raid during World War II. A small version of the painting is in a private collection, but he most widely known version remains on display at the Metropolitan Museum of Art in New York City.
historynet magazines
Our 9 best-selling history titles feature in-depth storytelling and iconic imagery to engage and inform on the people, the wars, and the events that shaped America and the world.