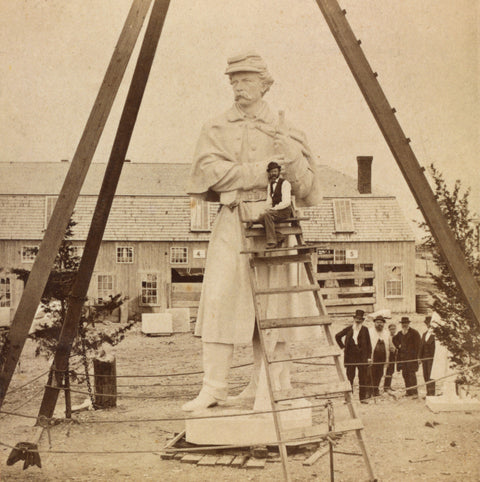 'Old Simon' Comes Home
The Private Soldier monument that today stands sentinel in Antietam National Cemetery was first displayed in 1876 at the Centennial Exposition in Philadelphia, then crated up in pieces for transport to Sharpsburg. The journey home for the statue, nicknamed "Old Simon," was delayed for months after a section of the soldier from the waist up fell into the Potomac River.
After being retrieved, it was transported on the C&O Canal, and then dragged on huge wooden rollers to Sharpsburg and the cemetery. The monument depicts a Union infantryman standing "in place rest" facing homeward to the north. The soldier itself is 21½ feet tall and weighs about 30 tons, pictured here in the process of being sculpted at the Rhode Island Granite Works. It was designed by James G. Batterson and sculpted by James Pollette for a cost of over $32,000.
The monument was dedicated on September 17, 1880 — the 18th anniversary of the Battle of Antietam. George Hess, the first superintendent of Antietam National Cemetery, wrote in 1890: "In the centre of the grounds is erected a monument commemorative to the great event of the battle, and the heroism of those who sleep at its foot and around it. It is the colossal statue of an American soldier standing guard over the remains of the loyal dead, who are buried all around him, with this inscription on the die or shaft: "Not for Themselves, but for Their Country, September 17, 1862."
historynet magazines
Our 9 best-selling history titles feature in-depth storytelling and iconic imagery to engage and inform on the people, the wars, and the events that shaped America and the world.