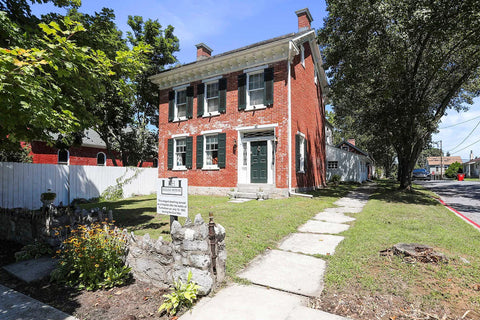 Want to Live on a Battlefield? You Can for $550,000
Funkstown, Md., is a small town nestled into a bend of Antietam Creek, just slightly southeast of Hagerstown. Although interstates and modern development are nearby, the downtown still retains the small feel it had when it hosted the July 10, 1863, Battle of Funkstown during the Confederate retreat from Gettysburg.
That mean little scrape initially pitted Brig. Gen. John Buford's troopers against J.E.B. Stuart's cavalrymen, but things heated up and a brigade of Vermont infantry was fed into the fray, only to be met by Brig. Gen. George Anderson's Georgia Brigade. Major Henry McDaniel of the 11th Georgia Infantry fell wounded, and was brought to this house, known as the Keller Home during the war.
Interior of "Keller Home" in Funkstown, Md.
When the fighting ended on July 10, the Confederate rear guard held. Major McDaniel was captured and hospitalized. He survived, however, and became a Governor of Georgia.
Major Henry McDaniel
You, too, can recuperate after a long day of work in this circa 1800 house with more than 2,700 square feet located at 32 E. Baltimore Street, and offered at $550,000. The home sits on a corner lot, one of the largest parcels in Funkstown.
Read Kent Masterson Brown's Retreat From Gettysburg in the shaded backyard with mature trees, or after the weather turns cold, in front of one of the home's four fireplaces. Pubs, antique shops, and Antietam Creek are a short walk from the house, while Antietam National Battlefield is a short drive, and Gettysburg and Monocacy aren't far.