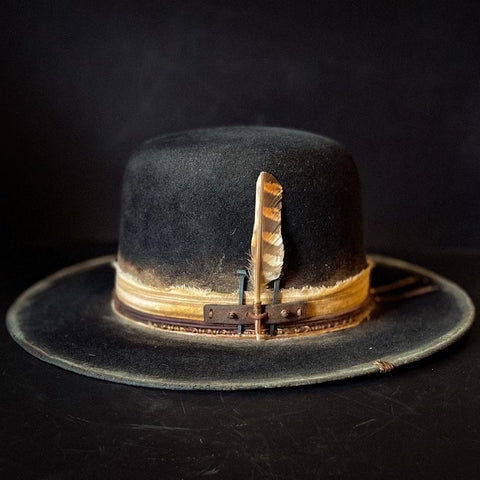 'Here's Your Hat,' Was All This Ugly Outlaw Needed to Hear
Eller remains on the hunt for his breakthrough role. Meanwhile, his one-of-a-kind hats are logging screen time.
As any fan of Westerns knows, the hat may not make the man, but the wrong one can sure spoil the authenticity of a film or TV episode. Sometimes the hat, like the hero's sidearm, is of a style that didn't exist in the Old West. More often the hat looks fresh from the shelf of the local tack shop.
"It really got me angry," says actor-cum-hatmaker Travis Lee Eller of his own on-set brush with the wrong hat. "I was supposed to be this outlaw on the run, stranded in the desert without my horse, no water, 100 degrees and on the verge of death," he recalls. "The wardrobe lady said, 'Here's your hat'—and it was clean as a whistle!"
Cut.
"That was the last straw," recalls Eller. "I decided I'd start making my own hats."
Eller's "Saddle Tramp" evokes the original frontier Stetson.
The result is Ugly Outlaw, Eller's custom hat shop. Each of his handcrafted creations is unique and, more important to the actor, distressed to look as if it has been owned for decades—or perhaps to the desert on a horse with no name. Like veteran hatmaker to the stars Tom Hirt (see "Hats Off to Tom Hirt," by Johnny D. Boggs), Eller also makes hats for film, including several indie Westerns.
As a guest on a forthcoming episode of the podcast How the West Was 'Cast , Eller will speak about the history of hatmaking and list a few favorite film hats—among them, perhaps, the ones Hirt crafted for Tombstone (1993). Tune in. Eller hopes to make a similar splash with his distinctive hats—coming soon to a screen near you. WW