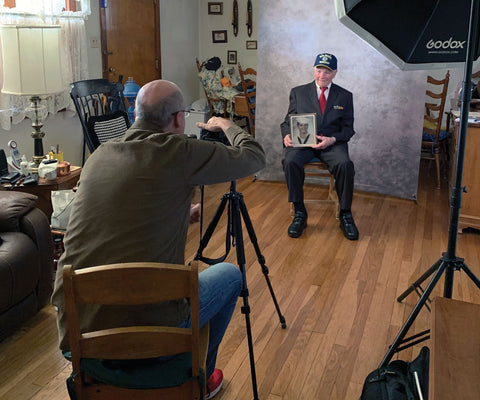 Two Men Are Fighting to Preserve the Recollections of WWII Veterans
Army Rangers destroyed German gun emplacements at Omaha Beach on D-Day and freed hundreds of Allied prisoners from a Japanese POW camp in the Philippines. In all, 7,000 Americans served as Rangers during World War II. Only 12 survive, President Joe Biden noted on June 7, 2022, as he joined Congress in honoring the elite force with the Congressional Gold Medal.
Three weeks later, the last surviving Medal of Honor recipient from World War II—Hershel "Woody" Williams, who braved machine gun fire to attack Japanese pillboxes on Iwo Jima with a flamethrower—died at a veterans' hospital in West Virginia at age 98. His remains lay in honor at the U.S. Capitol on July 14.
These separate news items provided a stark reminder that the World War II generation is vanishing. Even the youngest wartime vets are now in their nineties. The National WWII Museum in New Orleans says that only 240,000 of 16 million veterans of the war were still alive as of September 2021 and that 234 are dying daily. "Every day," the museum notes on its website, "memories of World War II—its sights and sounds, its terrors and triumphs—disappear."
Volunteers are working hard to make sure the veterans are not forgotten. As a ponytailed California teenager, Rishi Sharma, the son of immigrants from India, embarked on a campaign to record interviews with combat veterans of the war ("World War II Today," April 2017). Now, more than five years later, his "Remember WWII" nonprofit (rememberww2.org) has completed 1,500 interviews.
Meanwhile, Birmingham, Alabama, photographer Jeffrey Rease has made it his mission to snap portraits of as many wartime vets as possible ("World War II Today," February 2021). His project received a boost when NBC News broadcast a feature on his efforts in August 2022, bringing in donations for travel and tips on veterans to photograph. By early September, he'd taken 292 portraits. He's hoping to hit the road to shoot more, perhaps focusing on Midwestern states like Ohio, Illinois, and Minnesota. You can see his work and make donations at portraitsofhonor.us.
Rease knows the clock is ticking. "I won't be able to get them all," he told World War II. "Some will pass away. So, yeah, it's urgent."
this article first appeared in world war II magazine