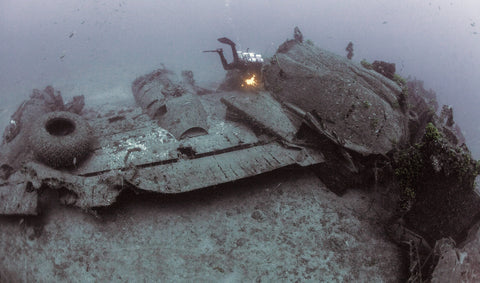 Crashed B-24s Discovered in the Adriatic
The American B-24 bombers would take off from an air base in Foggia, Italy, and conduct raids across Germany and Nazi-occupied Europe. Crippled by German fighters and flak, many didn't make it back, frequently ditching in the Adriatic Sea, which separates Italy from the Balkans. The wrecks of 30 American aircraft are believed to be submerged in those waters.
Researchers from the University of Delaware, the nonprofit Project Recover, the U.S. Defense POW/MIA Accounting Agency (DPAA), and Croatia found five of them over the summer after scouring 24 square miles of seafloor. And they're going back for more.
Three of the five B-24 Liberators were identified, pointing researchers to the names of 23 crew members who had been listed as MIA. "With those IDs we now know who was aboard…and the MIAs associated with the aircraft," said mission leader Mark Moline, professor of marine studies at the university and co- founder of Project Recover. Moline added that the next step in the process will be to look into the feasibility of excavating and recovering the airplanes and any human remains.
The wrecks were found in about 300 feet of water. The engine cowlings, propellers, and wings were mostly undamaged—to the surprise of the researchers, according to an account in Stars & Stripes.
It was the biggest find ever by Project Recover, which for the first time loaded a side-scan sonar, a magnetometer, and a high-resolution camera onto an unmanned mini-submarine. "Combining these technologies is extremely powerful," Moline said. "An aircraft wreck site often doesn't look like an aircraft…. The sonar provides very good information whether the object is manmade. The magnetometer provides information on whether an object has ferrous material [iron] even if it is buried in the sediment. The imagery gives confirmation on whether it is aircraft or not. Combining these to provide simultaneous data streams helps us confirm a site consistently with high confidence."
The searches are likely to get another technical assist going forward. University of Delaware researchers are working on algorithms that will help explorers sort through a "firehose" of sonar data to find likely wreck sites.
The DPAA is pushing to develop new technologies and methods to locate and identify war remains. The university and Project Recover are also planning to look for wrecks in the Pacific in 2023. More than 72,000 Americans are still missing in action from World War II.
this article first appeared in world war II magazine