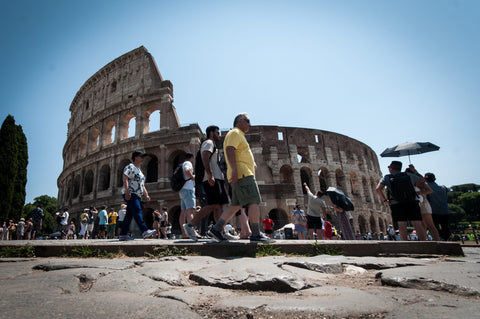 Tourist Who Graffitied the Colosseum Claims He Didn't Know the 'antiquity of the monument'
While Rome wasn't built in a day, the Colosseum was completed in 80 B.C. and has remained an iconic structure in both Italy and around the world for more than 2,000 years.
But according to Ivan Dimitrov — the tourist who was filmed carving "Ivan+Hayley 23" into the centuries-old structure with his keys — he had no idea about the "antiquity of the monument."
According to NPR, Dimitrov was filmed in the act by an American tourist, Ryan Lutz, who posted the video on social media after he said Colosseum guards failed to show interest in his footage.
1/2 Grato all'Arma dei @Carabinieri per aver prontamente individuato il presunto responsabile del gesto incivile quanto assurdo commesso al #Colosseo. Un atto che ha offeso tutti coloro che nel mondo intero apprezzano il valore dell'archeologia, dei monumenti e della storia. pic.twitter.com/k2apyx026A

-- Gennaro Sangiuliano (@g_sangiuliano) June 29, 2023
The video was swiftly met with outrage across social media, with the Rome prosecutor's office beginning their investigation into Dimitrov shortly after.
This is the fourth time this year that such graffiti was reported at the Colosseum, writes NPR. The act of damaging cultural property carries fines of up to 15,000 euros and five years in prison.
"I admit with the deepest embarrassment that only after what regrettably happened, I learned of the antiquity of the monument," Dimitrov wrote in his letter to the prosecutor, his lawyer, Alexandro Maria Tirelli, told CNN.
In a report published on July 25, 2022, by the U.K.-based financial consultant group Deloitte, the company estimated that the iconic Colosseum in Rome is worth 77 billion euros, or $79 billion, in cold, hard cash.
The study also found that the Colosseum contributes 1.4 billion euros per year to the Italian economy as a cultural attraction.
Dimitrov's actions have "offended everyone across the globe who appreciate the value of archaeology, of monuments and of history," Culture Minister Gennaro Sangiuliano tweeted last week. He added that the police had "identified the person presumed to be responsible for the uncivilized and absurd act committed at the Colosseum."
Tirelli and Dimitrov are seeking a plea bargain in the case.