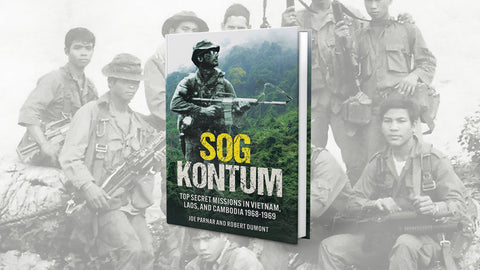 Special Force Troopers Remember Their Sacrifices In the Vietnam War
I can say without hesitation that SOG Kontum: Top Secret Missions in Vietnam, Laos, and Cambodia 1968-1969 by Joe Parnar and Robert Dumont is one of the best histories assembled by Vietnam War veterans that I have ever read. This is an ideal companion book to John Plaster's SOG: A Photo History of the Secret Wars , which we profiled in our portfolio. This book is a very moving tribute to the heroism of the top-secret unit based on research and oral histories gathered from SOG veterans themselves.
It is true that Special Forces fighters draw admiration for their toughness, grit, and prowess in the field of battle—and there is plenty of that to be found in the book. Those who love soldier stories as much as this reviewer will find much to appreciate and enjoy while reading about SOG men navigating do-or-die missions, backed by quick wits, combat skills and a salty sense of humor. Reflecting on all their daring, you might be tempted to think that such men were invincible—but they were not, and it is actually the tales of human vulnerability contained in this book that makes it outstanding. Amid all the glory there are plenty of stories of fear, pain, and human frailty–and the memories of the men described shine all the brighter for it because they kept going despite it all, not only for themselves but for others.
One of the many examples of heroism described in the book is that of John Kedenburg, who would be posthumously awarded the Medal of Honor. Kedenburg had the opportunity to be lifted from a fierce enemy onslaught but sacrificed himself to allow an indigenous trooper to be saved by the evacuation helicopter. Author Joe Parnar was called upon to wash his fallen comrade's body for transport back to the United States. He writes: "I was never an overly religious person, but I recalled the story of someone telling Christ they were not worthy to loosen the thongs of his sandals. This is how I felt as I unlaced John's boots."
This powerful sense of sacrifice permeates the book and makes it profound and unique—especially when one considers the void of secrecy in which SOG existed. These soldiers entered enemy territory wearing "sterile" clothing, such as jungle fatigues spray-painted with black stripes, without any trace of individual identity. "Dog tags, ID cards, or any item that indicated an individual's name or nationality could not be brought on a mission," the authors write. Secrecy might seem glamorous to those of us looking on from a distance. But it meant that these soldiers, whose existence and purpose was officially denied by their government, fought and died within a proverbial vault of silence. It also placed them at risk of being totally erased from the annals of history and thus from living memory itself. Fortunately the authors have made a considerable and heartfelt effort to ensure that this is not the case—a worthy triumph honoring not only the SOG veterans living today but also the 407 U.S. SOG men killed in action and those who went missing and remain unaccounted for.
—Zita Ballinger Fletcher
SOG Kontum: Top Secret Missions in Vietnam, Laos, and Cambodia, 1968–1969
by Joe Parnar and Robert Dumont. Casemate, 2022
If you buy something through our site, we might earn a commission.
This book review appeared in the 2023 Summer issue of Vietnam magazine.
historynet magazines
Our 9 best-selling history titles feature in-depth storytelling and iconic imagery to engage and inform on the people, the wars, and the events that shaped America and the world.