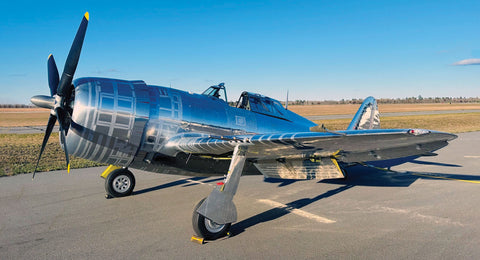 This P-47 Will Once Again Take to the Skies
As of late March 2023, the Dakota Territory Air Museum, in Minot, North Dakota, is preparing for the first flight of its impeccably restored Republic P-47D-23 Thunderbolt. It is encouraging to see any P-47 restoration, much less one as compulsively complete and airworthy as this one. The chubby fighter was recovered from Papua New Guinea, where it had been abandoned by the Army Air Forces in September 1944 as worn out and obsolescent. AirCorps Aviation of Bemidji, Minnesota, started the restoration in 2015. The tape-like stripes visible on the airframe in the photo above are the brushed-on evidence of acid wash in preparation for spot welding, a 1940s technique that AirCorps Aviation revived for authenticity. The restorers also reproduced the assembly-line workers' hidden scribblings inside the structure—none of them important but all of them original. The airplane will eventually be repainted in a color scheme that is yet to be determined.
When it's done, this will be the only Republic-built Razorback that still flies. The earliest D models were Razorbacks, but later ones had bubble canopies. The bubble canopies offered better visibility, but the straight dorsal fairing—the "razorback"—behind the cockpit created less drag and provided more longitudinal stability. This would have made the Razorback a slightly better gun platform.
The Thunderbolt has come a long way since it looked like this.
And the P-47 was an effective gun platform. In fact, you can make the case that the Pratt & Whitney propelled Thunderbolt was the most effective fighter, Allied or Axis, of World War II. It had eight guns, carried 65 percent more ammunition than its smaller Merlin-engined mates, and could lift more than a ton of bombs. The P-47N was faster and had a longer range than the North American P-51 Mustang. The Thunderbolt's feats as a low-level fighter-bomber were never equaled, and at 30,000 feet, with its dishwasher-size turbocharger wailing, there simply was no other 2,000-boosted-horsepower single-engine fighter flying. The P-47 owned the sky.
Back then, there was an adage, "If you want to impress the girls back home, fly a Mustang. If you want to see them again, fly a P-47." In the words of the warbird website Hush-Kit, "Its biggest asset was its survivability, which meant the most important weapon the Air Force had—its experienced pilots—were kept alive." Every single P-47 ace survived the war, something that cannot be said of any other fighter, friendly or foreign. Now another P-47 will not only survive but remain flying.
this article first appeared in AVIATION HISTORY magazine