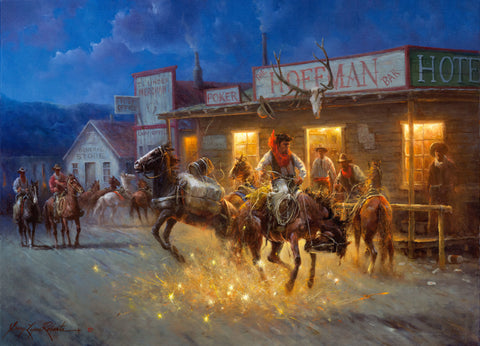 This Montana Painter Takes His Inspiration From the 'Cowboy Artist'
A handful of mischievous cowboys are enjoying a night on the town, setting off firecrackers beneath a packer's horses outside a saloon, in Gary Lynn Roberts's 36-by-50-inch oil on canvas Charlie and the Pranksters. Roberts describes the scene as "a night out, too much to drink and perhaps even a local rivalry—a group of young cowboys bringing a lot of excitement to town."
If the work appears to echo Russell's iconic 1909 oil on canvas In Without Knocking —which depicts a group of boisterous, gun-toting cowboys literally riding into a saloon—well, that was the artist's intention. The buildings are modeled after those in Russell's painting, and the saloon in Roberts' work is also named the Hoffman Bar.
Gary Lynn Roberts
" Charlie and the Pranksters depicts a scene as might have been told by Charlie himself," says the artist, "being right in the middle of all the commotion." Roberts rendered the painting for the C.M. Russell Museum in Great Falls, Montana, which sold the original in 2018 to an anonymous New York collector for $30,000.
A native of Texas, Roberts [GaryLynnRoberts.com] lives and paints in the Bitterroot Valley of western Montana, where he moved in 2008 with wife Nancy and daughters Mary and Anna. It's perhaps no surprise he chose to pay tribute to Russell, though his career path began long before his move north.
"For as long as I can remember, all I ever wanted to do was be a painter," Roberts says.
Throughout his childhood he was steeped in art. His father, Joe Rader Roberts (1925–82), studied at the California School of Fine Arts in San Francisco, became a noted Western artist and was designated Texas State Artist in 1974–75. His mother, Nelda, was also a painter. Several of their portraits of Rangers hang in the Texas Ranger Hall of Fame & Museum in Waco.
"My dad was a great influence," Roberts says. "We shared a strong passion for art. At a young age he instilled in me a strong work ethic. My father took art seriously and believed in learning the fundamentals first. For years he pounded that into me.
The playfully titled 'Where You Gonna Put Him?' a question these hunters with heavy-laden pack animals will have to answer before bagging any more elk.
'Ruth 1:16,' the referenced Scripture reading in part, "Where you go, I will go."
"At the age of 14 I got my start in the art business by painting signs and lettering windows and trucks. My mother would drive me around town with my paint box to grocery and furniture stores, where I would paint the windows with weekly specials or holiday scenes."
Roberts also won his first art award at age 14, at the Houston Livestock Show and Rodeo. But he wasn't painting full time in those days. "Growing up in Texas, my life revolved around horses," he says. While training horses and performing in rodeos, he was able to observe them firsthand, which later helped him depict their personalities.
Other talented artists also mentored Roberts. He received one-on-one training from G. Harvey (born Gerald Harvey Jones, 1933–2017), the American traditionalist whose works were collected by such notables as Lyndon B. Johnson and Margaret Thatcher, as well as A.D. Greer (1904–98), the Oklahoma Territory–born artist known for his Texas landscapes.
"I have taken that knowledge and experience and molded it into my own style, a mixture of Realism and Impressionism," Roberts says.
'A Crisp Morning,' depicting the artist's favorite season in a historical retrospective.
'No Place to Ford' ("I have witnessed the swell of the rivers," Roberts explains of this spring scene.)
The awards keep coming: the C.M. Russell Art Auction People's Choice Award and the Honorary Chairman Award for Roberts' After the Shower in 2009, the 2012 Best of Show at the John Clymer Museum Auction for his Colors of Fall and many others.
And Roberts keeps learning. "That's what keeps my paintings relevant," he says.
"My love for horses, rodeo and the beautiful Montana landscape draws me to the American West. I grew up in an era with Western movie stars like Roy Rogers and John Wayne. My work encompasses a time when cattle drives, Indian encampments and cowboys on horseback were prevalent. My imagination can run wild in the American West."
The artist follows no set routine when it comes to painting, and each work is different. "I follow my heart," he says. "I paint what I am passionate about."
In 'Home for the Holidays' a woman and her daughter en route to visit family wait at a stage station across the street from glowing shops and services in a small frontier town.
When does he know a painting is ready?
"No one sees imperfections like an artist," Roberts says. "There is always something that can be changed. Knowing when a painting is ready can be difficult, because changing these imperfections can lead to overworking the painting."
Settlers from back East arrive by stage in town amid a storm in the hopefully titled 'New Beginnings.'
Roberts credits his Christian faith for his success. "My biggest blessing from God is my imagination," he says.
The artist recently partnered with Treasure State Frames to create giclées for people who can't afford his original artwork. Jordan Summers creates the frames, and Summers's wife, Ashley, prints the giclées.
"Giclées are a fine art reproduction, using premium archival inks and high- quality canvas, ensuring the prints will last over 100 years," Roberts says. "I enhance every giclée, meaning I paint in areas to add texture making them look more like an original."
Though he enjoyed his playful take on Russell's work, Roberts claims no favorite artist, past or present, but appreciates a broad range of creative works. What's his take on the future of Western art?
"I am optimistic," he says. "It represents the history and heritage of America."
this article first appeared in wild west magazine