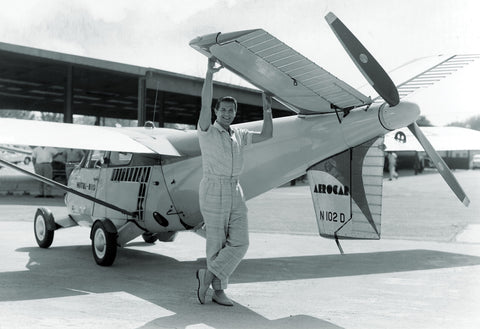 This A-List Actor Used His Celebrity to Promote Aviation
Many Hollywood actors promote causes—social justice, animal welfare and so forth—but Robert "Bob" Cummings was a popular film and television star who used his celebrity to endorse general aviation. Cummings played aviators in many of his productions and flew his own airplanes to shooting locations and while touring to promote his films. He was often photographed alongside his airplanes, all of which he named Spinach , although no one seems to know why.
Charles Clarence Robert Orville Cummings was born June 9, 1910, in Joplin, Missouri, and learned to fly while in high school, soloing in March 1927. Cummings studied aeronautical engineering at the Carnegie Institute of Technology in Pittsburgh but was forced to withdraw from school when his family's finances were severely reduced by the stock market crash of 1929. He had become interested in acting while still at Carnegie and landed his first roles on Broadway and found work as a Hollywood extra during the early 1930s, sometimes working under different stage names. After signing a contract with Universal Pictures, he began to appear in better films, including It Started with Eve and The Devil and Miss Jones (both 1941) and Kings Row and Alfred Hitchcock's Saboteur (both 1942).
Cummings joined the Civil Air Patrol after the attack on Pearl Harbor, flying search and rescue missions, courier flights and border patrols with the Glendale, California, squadron. He used his own airplane, the first Spinach , a 1936 Porterfield. Later he owned a Cessna Airmaster, which he named Spinach II. In 1942, Cummings was inducted into the U.S. Army Air Forces as a flight instructor.
Cummings liked to name his airplanes Spinach. Here he pays a visit to Spinach II, a Cessna Airmaster.
After the war, Cummings took on numerous roles, beginning with You Came Along , in which he portrayed a U.S. Army Air Forces officer during World War II. He starred in his first TV series, the comedy My Hero , from 1952 to 1953, and in 1954 he won an Emmy award for his performance in "Twelve Angry Men" on the Westinghouse Studio One show. In 1954, Cummings starred alongside Ray Milland and Grace Kelly in Hitchcock's film Dial M for Murder. From 1955 to 1959, he starred in his own TV sitcom, The Bob Cummings Show. He played Bob Collins (the same name he had in You Came Along ), a former World War II pilot who becomes a Hollywood photographer. The New Bob Cummings Show began airing in 1961, with Cummings playing Bob Carson, a charter pilot and amateur detective who owned two airplanes, a 1960 Taylor Aerocar and a twin-engine Beech Super 18. The Aerocar, introduced in 1949 by designer Moulton Taylor, was a vehicle that could fly like an airplane or drive like an automobile. Cummings's Aerocar was one of only six ever built and it could be seen taking off in the show's opening credits. That wasn't enough to save the show, which lasted for only 22 episodes.
Cummings also appeared in "King Nine Will Not Return," a 1960 episode of The Twilight Zone in which he played the captain of a North American B-25 Mitchell bomber that crashed in the North African desert.
Throughout his life, Cummings was an avid pilot and enthusiastic supporter of general aviation. He also told some stories about his connections with aviation history that don't withstand close scrutiny. For instance, he said that his father, a doctor, once treated Orville Wright and as a result gave his son the middle name Orville. The story appeared in a March 1960 article in Flying magazine, which said, "His father, the late Dr. Charles C. Cummings, a physician and surgeon, had treated Orville Wright for barber's itch, a facial fungus which the pioneer airman picked up in a Kansas City tonsorial parlor while enroute to Joplin with brother Wilbur. One of the first practitioners to employ ultraviolet rays in treating skin diseases, Dr. Cummings quickly cured Orville's infection and the two men became good friends." Nonetheless, no known historical records mention a visit by the Wrights to Joplin or anything about Orville's "barber's itch" or treatment by Dr. Cummings. At other times Cummings apparently claimed that Orville Wright was his godfather and had taught him how to fly, although he told Flying that his teacher was a plumber named Cooper. One of the actor's middle names was Orville, but it's most likely that Cummings—or his publicist—invented the stories about a connection with Orville Wright.
In 1960 the actor made a memorable appearance in an episode of The Twilight Zone titled "King Nine Will Not Return." He played the pilot of a B-25 Mitchell that had crashed in the North African desert. Those familiar with the show will not be surprised to learn that there is a plot twist.
Another story Cummings told is that when the government began licensing flight instructors, Cummings received certificate number one, making him the first official flight instructor in the United States. The Flying article said that "in 1938 the CAA [Civil Aeronautics Authority], aware that many people who could fly were actually incapable of teaching the art, created the rating of flight instructor. Bob applied for the rating even before Washington had prepared an examination. As a result, the Los Angeles CAA inspector, Gene Scroggy, drafted a tough 10-hour written, which Bob passed. After a thorough flight test, he qualified for Flight Instructor Certificate number 'one' by virtue of the fact he had been the first pilot in the country to apply!"
The Flying article also noted that "to Bob Cummings flying is an indispensable 'way of life.'" That, at least, seems indisputable.
Cummings appeared in many other shows and movies throughout the years—his Internet Movie Database listing includes 105 appearances as an actor—before his death on December 2, 1990, at the age of 80. He was interred at Forest Lawn Cemetery in Glendale, California. His Aerocar, owned by Ed Sweeney, had been on display at the Kissimmee Air Museum in Florida until the museum closed in 2021.
this article first appeared in AVIATION HISTORY magazine