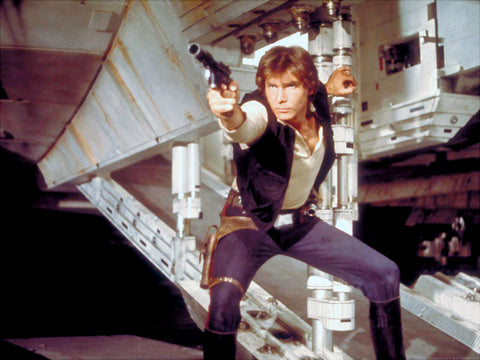 The WWI Pistol That 'Played' Han Solo's Blaster Just Sold for How Much?!
Would you pay $1,057,500 for a World War I–era C96 Mauser pistol not in its original configuration?
An unidentified bidder at Rock Island's Premier Firearms Auction did last month.
That said, this is no run-of-the-mill surplus firearm. The former owner of this reconfigured 9 mm German pistol was a scruffy, rebel-aligned smuggler with a conspicuously hirsute sidekick who used it to blast imperial stormtroopers in "a galaxy far, far away."
Yes, this particular movie prop was brandished by Han Solo (played by Harrison Ford) in "Star Wars," the 1977 sci-fi epic that spawned the franchise.
Its price more than doubled Rock Island's presale high estimate, not to mention the $555,000 paid at a 2018 auction for the blaster Ford wielded in the 1983 sequel "Return of the Jedi."
---
Manufacturer: BlasTech Industries
Model: DL-44
Capacity: 50 shots
Range: 50-75 meters
Affiliation: Alliance to Restore the Republic, Galactic Empire, Twi 'lek Resistance, Bounty Hunters)
---
Han Solo's BlasTech DL-44 blaster exhibited by Julien's Auctions on May 21, 2018. (Hector Retamal/AFP/Getty Images)
---
Referred to in Star Wars as a BlasTech DL-44 Heavy Blaster, this particular "plasma weapon" was designed around an authentic Mauser C96 fitted with a vintage German Hensoldt scope and a flash hider from a wartime Mauser MG 81 machine gun. Carl Schmidt, chief armorer at the London-based prop house Bapty & Co., fashioned it from a C96 that had already seen screen time in the 1967 spy film "The Naked Runner," starring Frank Sinatra.
Once Star Wars was in the can, the gun was broken down and returned to storage. In recent years, Schmidt reconstructed the blaster from its original parts, minus various glued-on gizmos added by Lucasfilm's art department.
Mausers pop up (and off) in the 1963 James Bond film "From Russia With Love," the 1972 Western "Joe Kidd" — in which the title character, played by Clint Eastwood, fires a fantastical 30 rounds from the 10-round magazine — and the 1985 dystopian action film "Mad Max Beyond Thunderdome," among other big- and small-screen cameos.
The real (vs. "reel") C96 boasts a storied history of its own.
Between 1896 and 1937, German arms manufacturer Mauser produced some 1.1 million copies of the 9 mm semiautomatic pistol, which features an integral box magazine forward of the trigger and a distinctive rounded wooden grip that earned the gun the nickname broomhandle.
Its known users are no less celebrated. Future British Prime Minister Winston Churchill carried one while serving as a lieutenant with the 21st Lancers at the 1898 Battle of Omdurman in Sudan and during the Boer War. His countryman Col. Thomas Edward Lawrence (aka Lawrence of Arabia) used one while leading the World War I Arab Revolt against the Ottoman Empire.
But it is the broomhandle's association with a fictional space hero that has sent the firearms auction market into higher orbit.
historynet magazines
Our 9 best-selling history titles feature in-depth storytelling and iconic imagery to engage and inform on the people, the wars, and the events that shaped America and the world.