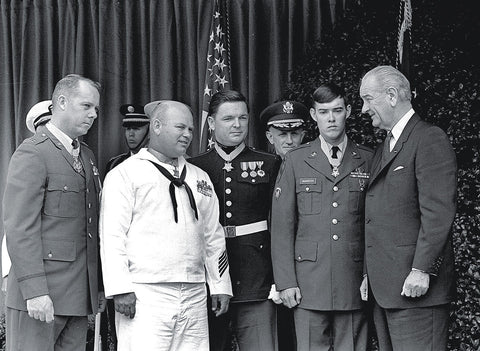 Is the Medal of Honor Overrated?
Today, sadly, a vast number of Americans seemingly have heard of only one valor award—the Medal of Honor. This narrow-minded focus unfairly diminishes the honors of Vietnam veterans and others awarded different
valor medals. Ask the "person on the street" to name another medal awarded for heroism besides the Medal of Honor. Perhaps some people will think of "the Purple Heart," awarded for wounds or death in combat. Only a few would be able to cite the armed services' second-highest valor award, the Army's Distinguished Service Cross, the Navy/Marine Corps' Navy Cross, the Coast Guard Cross, or the Air Force/Space Force Cross.
U.S. military medals from the top, Medal of Honor, Distinguished Service Cross, Silver Stare, Distinguished Flying Cross, Purple Heart, Air Medal and Commendation Medal. (HISTORYNET Archives)
The Silver Star might vaguely "ring a bell" with some, but many would likely be hard-pressed to describe its significance and probably wouldn't know it is the third-highest valor award for all military services. The military's Bronze Star Medal and Commendation Medal with "V" (for valor) devices are arguably beyond the ken of most Americans.
Yet the heroism those awards represent is no less deserving of recognition than the valor of the celebrated few who have received the Medal of Honor. Although the Medal of Honor is appropriately placed atop the "Pyramid of Valor" all valor awards reflect the bravery, blood and sacrifice of America's finest, often earned at the price of their lives in desperate combat with communist forces in Vietnam and other foes elsewhere.
As a result of the general public's unfamiliarity with the military and a focus on the Medal of Honor, the carefully crafted Pyramid of Valor is collapsing into a single "all or nothing" award.
Some people believe that a service member's heroism must be rewarded with the Medal of Honor to be properly recognized, and therefore the family or other advocates will call for a medal upgrade by claiming that the courage and sacrifice of someone previously recognized with the Distinguished Service Cross, Navy Cross or Silver Star is being unfairly denied the Medal of Honor.
Those whose knowledge of military awards is limited to the Medal of Honor think even the nation's second-highest valor awards, the service crosses, are somehow insufficient recognition. Anything less than the Medal of Honor is considered an insult to the service member's valor, an "injustice" or not equal to the heroic actions that took place. This attitude diminishes the true heroism of tens of thousands of Vietnam veterans whose valor was justly recognized by medals less prestigious than the Medal of Honor.
The Medal of Honor, created in 1861 during the Civil War, was first presented in March 1863 to six members of Andrews' Raiders, who captured a Confederate train in Georgia in 1862, an action re-created in the 1956 film The Great Locomotive Chase. (Some acts of valor that took place prior to the Andrews' raid were recognized with the Medal of Honor after the war.)
The Medal of Honor was the only valor award a heroic service member could receive and wear on his chest from the Civil War until the Distinguished Service Cross was established in January 1918 in the midst of World War I. The other valor recognitions during that period were limited to a "mention in dispatches" and a written "certificate." Thus, if a medal was to be awarded, it had to be the Medal of Honor, regardless of circumstances and the degree of valor exhibited.
Of the 3,530 Medals of Honor awarded up to 2021, more than 2,000 of them were presented before World War I for a variety of acts such as capturing enemy flags, rescuing comrades under fire, standing steadfast in the face of an enemy attack and delivering dispatches through hostile territory. That wide range of heroics, ranging from true blood sacrifices "above and beyond the call of duty" to relatively mundane but nonetheless valorous acts, convinced U.S. military authorities that a hierarchy of valor recognition was necessary to ensure that a fair and equitable system of medals was created.
The Pyramid of Valor began to take shape just as the U.S. entered World War I when the military and Congress added not only the Distinguished Service Cross but also other awards for heroism that didn't quite meet the Medal of Honor's exceptionally high bar.
Second tier: The Distinguished Service Cross, created in 1918; Navy Cross, 1919; Air Force Cross,1960.
Third tier: Silver Star, established in 1918 as the Army's Citation Star, became the Silver Star in 1932 (available for the Air Force after it became a separate service); authorized for the Navy and Marine Corps, 1942.
Fourth tier: Distinguished Flying Cross, all services, for aerial achievement or valor, created in 1926, retroactive to 1918; Bronze Star, 1944, for meritorious achievements or valor.
Fifth tier: Purple Heart, created by George Washington in 1782 as the Badge of Military Merit for "meritorious action" but little used and converted in 1932 to a medal honoring the wounded and killed.
Sixth tier: Air Medal, established in 1942 for aerial achievement or valor.
Seventh tier: Commendation Medal, for meritorious achievement, service or valor, introduced in the Navy (and Marines) in 1944, in the Army in 1945 and the Air Force in 1958.
Medals that may be awarded for either achievement or valor (the Bronze Star, Commendation Medal, etc.) include a "V for valor" device when presented for heroism.
Medal of Honor Awards
3,530 —Total Medals
3,511 —Individuals
1,523 —U.S. Civil War
110 —Spanish-American War
126 —World War I
472 —World War II
146 —Korean War
262 — Vietnam War
20—Afghanistan War
8 —Iraq War
Current as of June 30, 2022.
All of our Vietnam War heroes who earned any of those medals should be remembered for their courage and sacrifice—not simply the one in 10,000 whose actions resulted in an award of the Medal of Honor. The attitude that somehow the Medal of Honor is the only worthwhile valor medal is a regression to 1861 when it was just that: "one or none" and egregiously unfair to history and our soldiers, sailors, airmen and Marines.
Don't let a tunnel-like focus on the Medal of Honor lead us to unfairly ignore the valor of heroes whose bravery was recognized "only" with awards of the Distinguished Service Cross (or Navy, Air Force variants), Silver Star, Bronze Star/Commendation Medal with "V" device or Purple Heart. All those heroes must be celebrated and honored.
—Jerry Morelock is senior editor of Vietnam magazine.
Do you have reflections on the war you would like to share?
Email your idea or article to Vietnam@historynet.com, subject line: Reflections
This article appeared in the Autumn 2022 issue of Vietnam magazine.
this article first appeared in vietnam magazine
Facebook: @VietnamMag | Twitter: @VietnamMag