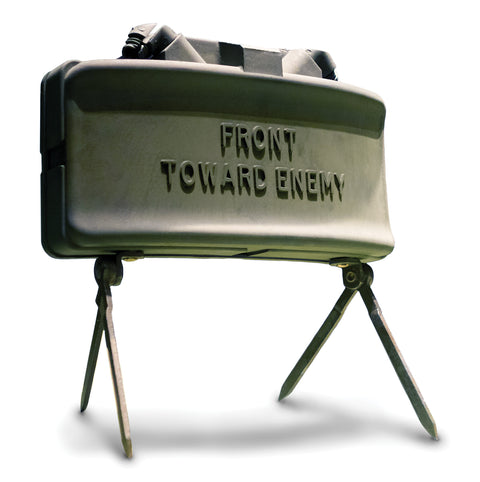 The Infamous Claymore Mine, AKA the Clacker, Mowed Down Everyone in Its Path
On Jan. 18, 1956, U.S. inventor Norman MacLeod filed a patent for an "anti- personnel fragmentation weapon" that became one of the most iconic explosive devices of the post-World War II era. It answered the call for a weapon that could blast across and through waves of attacking enemy infantry in a single devastating hit—a requirement born of experience in the Pacific theater and again in the Korean War. The weapon was the M18 Claymore.
The Claymore was a "directional mine," a curved plastic pack of Composition C-3 explosive (later C-4) into which numerous steel cubes were embedded. When detonated, the mine would blast out its fragments across an arc pre-set by the user. MacLeod's invention was not entirely original—directional mines had been explored by Hungary and Germany in World War II, and Canada developed a similar weapon in the 1950s known as the "Phoenix." Nor was it perfect. The M18 took a lot more improvements in the hands of Aerojet Corporation engineers before it became the M18A1, instantly recognizable by the words "FRONT TOWARD ENEMY" on its concave face.
It went into service with the US Army in the mid 1960s and was a game-changer. When it was detonated by command switch or occasionally tripwire, approximately 700 1/8-inch steel balls blasted out at a velocity of 3,995 feet/sec in a 60-degree arc, at a maximum height of 6.6 feet and over a lethal range of about 100 yards (although its optimal effective range was 55 yards), scything down those exposed in a lethal gust.
The M18A1 became an invaluable defensive tool in the Vietnam War, standing sentinel over base perimeters or contested jungle trails, but its service has lasted to this day, with widespread international adoption.
Fuze wells
The M18A1 had two fuze wells set at 45 degrees on the top of the device. In standard configuration, these were connected via cable to an M57 firing device, squeezed three times to initiate the explosion (hence its nickname, the "clacker").
Sight
A peep sight on top of the weapon enabled the user to align the blast arc with the intended area of effect.
Body
The curved plastic body measured 8.5 inches long, 3.25 inches high (6.75 inches with legs unfolded), and 1.4 inches wide.
Filling
The outer body contained the steel balls held in an epoxy matrix backed by 1.5 pounds of Composition C-4 explosive.
Legs
The M18A1 was mounted on two pairs of scissor legs, which were stuck directly into the ground to present the weapon vertically.
this article first appeared in military history quarterly