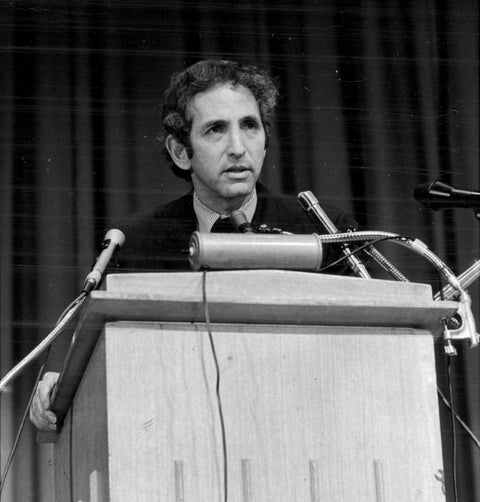 A Requiem for Daniel Ellsberg
Daniel Ellsberg, whose leaked "Pentagon Papers" revealed to the world in 1971 the U.S. government's closely guarded overview of the Vietnam War, died of pancreatic cancer on June 16 at his home in Kensington, Calif., at age 92.
Recommended for you
Ellsberg, a Harvard-educated former Marine, was an analyst for the RAND Corporation before becoming an adviser to Secretary of Defense Robert McNamara in 1964. He spent two years in Vietnam for the DoD assessing the war and spent significant time accompany counterinsurgency sorties in the field.
It was there that his formerly pro-war stance began to change, as the brutality and likely futility of the fighting slowly turned him against American policy. In 1967, he joined three dozen others in compiling what would later be called the Pentagon Papers —a 7,000-page study commissioned by McNamara—detailing the history of the conflict in Southeast Asia and revealing that four successive presidents from Eisenhower to Johnson had expanded the war illegally, misleading Congress and the American public while doing so.
Ellsberg's work on the document led him to believe the war was unwinnable. In 1971, he leaked the Pentagon Papers to the New York Times , and later the Washington Post , who published them wholesale after court battles debating the limits of the First Amendment.
Ironically, it became the next president in the series, Richard M. Nixon, to take the fall. Nixon ordered a series of aggressive countermoves, including illegal wiretaps and a break-in of Ellsberg's former psychiatrist's office to dig up dirt, that ultimately led to the Watergate scandal and the subsequent resignation of the president.
Ellsberg was charged with espionage, conspiracy, and other crimes that could have seen him spend decades in prison, but his case was thrown out in 1974 when the level of the government's misconduct came to light. Nixon's domestic affairs adviser, John Ehrlichman, even offered the trial judge the directorship of the F.B.I. as the court case was proceeding. Ehrlichman later went to prison.
Ellsberg continued his antiwar activism and in later years became a vocal advocate for nuclear disarmament. In 2018 he was awarded Sweden's Olof Palme Prize, which noted how his "moral courage" to leak the report led to an "untold number of saved lives." He is survived by his second wife, children, and extended family.