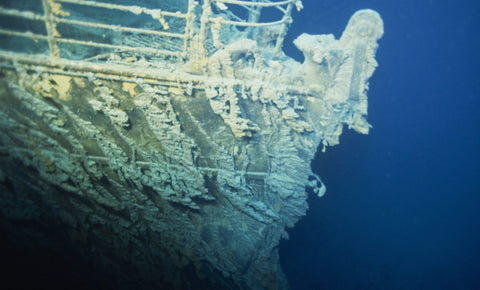 Should Visiting the Titanic Wreck Be Legal for Tourists?
As much of the world watches agape in horror at the frantic efforts to rescue the submersible Titan, which has been missing since Sunday morning, several family members of those killed on the Titanic are speaking out against the billionaire tourist trade.
"I compare it to looking inside a grave. I mean, people died there tragically, very tragically. Why make it a place for people to go see?
"Why, why do you have to do that? Let the people rest," John Locascio, whose uncles, Alberto and Sebastiano, died in the disaster, told CNN.
OceanGate, "an ocean exploration venture focused on providing crewed submersible services to enable researchers and explorers to access the oceans' vast resources," according to their website, boasted that, for $250,000, one could come up close to the infamous wreck sight.
Since 2021, at least 46 people have traveled on OceanGate's submersible to the Titanic wreck site, according to the Associated Press.
Arthur Loibl, one of the company's first customers, characterized a dive he made to the site two years ago as a "kamikaze operation."
"Imagine a metal tube a few meters long with a sheet of metal for a floor. You can't stand. You can't kneel. Everyone is sitting close to or on top of each other. You can't be claustrophobic."
Should it be legal?
Increasing numbers of oceanic tourists sparked another debate among family members and historians alike. Since the ship's discovery in 1985, concerns about preserving and protecting the famed ship are still fiercely fought over.
The shipwreck, previously preserved by UNESCO regulations, is now protected through a bilateral agreement between the U.S. and the U.K., which the two nations signed in November 2019.
The treaty, first presented in 2003 between the U.K., the U.S., Canada and France, languished for nearly two decades due to the stipulation that at least two signees were required to make it binding. The U.K. quickly signed, but it was not declared official until 2019 when the U.S. State Department announced that it had also entered into the agreement.
For many of the families with ties to the Titanic tragedy, the latest push to visit the wreck sight for no historical purpose amounts to dark tourism.
For 160 minutes, in the waning hours of April 14, 1912, desperate and terrified passengers said goodbye to loved ones as families were separated as the behemoth "unsinkable" ship slipped farther and farther into the icy ocean. An estimated 1,517 people died; 705 survived.
"They died a horribly tragic death," Locascio told CNN in a recent interview. "Just leave the bodies resting. They don't want people down to see them. Just leave well enough alone."
historynet magazines
Our 9 best-selling history titles feature in-depth storytelling and iconic imagery to engage and inform on the people, the wars, and the events that shaped America and the world.