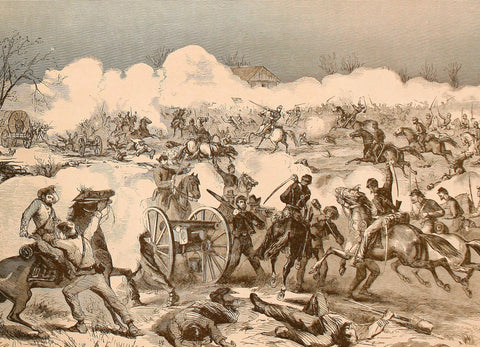 Revisiting the 'Small but Important Riots' between Brandy Station and Gettysburg
Sandwiched between the most famous cavalry battle of the war at Brandy Station and the titanic battle at Gettysburg, the June 17–21 cavalry clashes at and near the Virginia towns of Aldie, Middleburg, and Upperville are less known. Author Robert F. O'Neill first set out to rectify that in 1993, when Harold E. Howard published his book on the topic as part of the Virginia Civil War Battles and Leaders Series. O'Neill states this book is not an expansion on that previous work, but "new in every respect." After nearly 30 years of continued study, this work "reconsider[s] the judgments and conclusions [he] reached years ago."
One of the reconsiderations the author mentions is the role played by Union cavalry commander Brig Gen. Alfred Pleasonton. Plagued by conflicting orders from Army of the Potomac commander Maj. Gen. Joseph Hooker, it is O'Neill's argument that "No officer's role in the Loudoun Valley has been more misunderstood or misrepresented." The author does a good job of showing how Hooker, in an effort to make officials in Washington, D.C., believe he was following their orders, sent Pleasonton conflicting orders during the five-day span.
Pleasonton proved just as unwilling to follow orders as Joe Hooker. When Hooker finally decided he wanted the cavalry to remain east of Bull Run Mountain, his orders reached Pleasonton too late, and the battle near Aldie had already begun. The fighting that started on June 17 between one of Confederate Maj. Gen. J.E.B. Stuart's brigades (commanded by Colonel Thomas Munford) and newly appointed Brig. Gen. Judson Kilpatrick's command touched off five days of continuous fighting, including three battles.
Stuart had been tasked with keeping the Union cavalry out of the Shenandoah Valley, preventing them from seeing the Confederate infantry marching northward. For five days, his brigades gave ground slowly, preventing the Union cavalry from passing through Ashby's Gap in the Blue Ridge Mountains. Pleasonton had "hoped to quickly overpower or drive the Southern cavalry from the Loudoun Valley" but failed.
According to the author, though Stuart was eager to redeem his reputation after Brandy Station, he "set aside his own thirst for victory" and "accomplished exactly what [General Robert E.] Lee had asked him to do. He had kept the Union cavalry from breaching the Shenandoah Valley by "meeting his foe at the gaps in Bull Run Mountain." Despite being prevented from finding the Confederate infantry, the author demonstrates Pleasonton's cavalry proved that its performance at Brandy Station was not a fluke. After pushing Stuart's heralded cavalry back for five successive days, "The Federal troopers gained confidence and swagger in the Loudoun Valley."
Writing in a lively style, O'Neill has produced an excellent narrative study of the engagements in the Loudoun Valley in June 1863. Based on an impressive array of sources and augmented by 18 excellent maps, this book will appeal not just to students of the Gettysburg Campaign and cavalry operations, but also to anyone interested in lesser-known "small riots."
Small but Important Riots
The Cavalry Battles of Aldie, Middleburg, and Upperville
By Robert F. O'Neill, Potomac Books, 2022
If you buy something through our site, we might earn a commission.