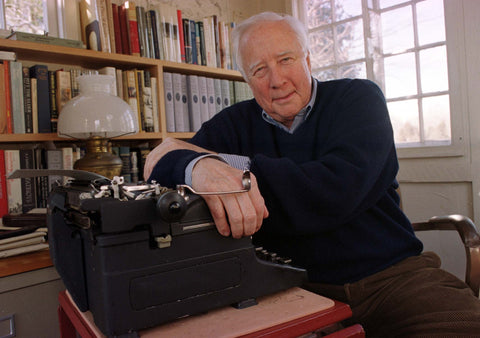 Remembering David McCullough: Pulitzer Prize-Winning Historian, 89, Dies
David McCullough, the bestselling historian whose books and television appearances vividly characterized American leaders, innovations and experiences, died on Sunday, Aug. 7, at age 89, according to The New York Times.
The author of 13 books on history and associated with even more history-based films, television shows and documentaries, McCullough was often credited with helping fuel a resurgence in interest in history in the U.S. mainstream — as well as inspiring countless young people to pursue history as a career.
"There is so much to learn about life from those who went before us and to take no interest in what they went through, to show no respect for what they achieved is not just to be stupid, it's gross ingratitude on our part," he said at a Missouri lecture in 2015. "History is filled with voices that reach out to us and lift the spirit."
David McCullough's LIfe
Born on July 7, 1933, McCullough was raised in Pittsburgh and cut his literary teeth in magazine journalism and as a researcher at the U.S. Information Agency. While he was working in D.C. in his 20s, a visit to the Library of Congress inspired his very first book. Photographs documenting the 1889 Johnstown flood, a devastating yet largely forgotten dam collapse that had occurred in his home state of Pennsylvania, piqued McCullough's curiosity and prompted him to research and write a fresh account of the tragedy, he told the Johnstown paper, The Tribune-Democrat. The resulting 1968 work, "The Johnstown Flood," put the town — and McCullough — on the world's radar, allowing him to leave his job and write full-time.
Not wanting to be branded as "Bad News McCullough," the Yale-educated English major spent the remainder of his career publishing books "about affirmation, about hardship overcome through determination and strength of character," McCullough told American History magazine in 2015. He celebrated American innovation in 2015's "The Wright Brothers," dissected feats of engineering in works like "The Great Bridge" (1972) and "The Path Between the Seas" (1977), and brought to life not one, but three U.S. presidents in "Truman" (1992), "John Adams" (2001) and "Moments on Horseback," his 1981 account of Theodore Roosevelt's early years. The first two, on Truman and Adams, won the Pulitzer Prize and were adapted by HBO for TV and film.
Even those who weren't familiar with McCullough's prolific body of nonfiction books, essays and articles knew his voice: He served as the narrator of Ken Burns' 1990 series "The Civil War," and also hosted the "American Experience" show on PBS from 1988 to 1999, among other small-screen stints and appearances.
McCullough's various honors and awards, in addition to his Pulitzers, included two National Book awards, dozens of honorary doctorates, a 2006 Presidential Medal of Freedom and being quoted on HistoryNet's website and in its various magazines countless times.
historynet magazines
Our 9 best-selling history titles feature in-depth storytelling and iconic imagery to engage and inform on the people, the wars, and the events that shaped America and the world.