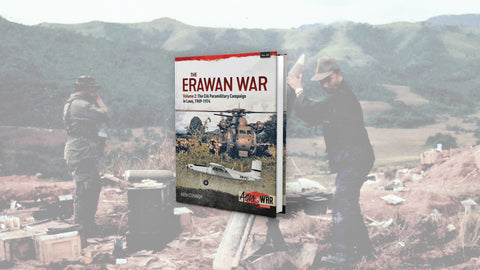 Erawan War in Laos Pitted CIA-backed fighters against NVA
In Ken Conboy's masterful retelling of covert operations across the border from Vietnam, The Erawan War, Volume 2: The CIA Paramilitary Campaign in Laos, 1969-1974, picks up wh ere the first volume, covering 1961-69, left off.
From 1969 onward, Conboy writes, CIA guerrilla regiments engaged the North Vietnamese Army in "increasingly conventional" operations. He recounts those operations in chronologicalorder and with fascinating details, providing a surprisingly clear look at warfare that was supposed to be secret.
The book contains a thorough history and analysis of covert operations code- named Erawan, after a mythic three-headed elephant that is a symbol of Laotian royalty. The covert forces in his narrative include the Commando Raiders, elite soldiers chosen to participate in "the most challenging of raids, ambushes, prisoner snatches…and cross-border missions" into North Vietnam.
The book's major strength is its focus on the activities of tribal minorities and locally recruited guerrilla troops who worked together with Americans in the fight against the NVA. Famed Hmong leader, Gen. Vang Pao, features prominently in the book, which examines his military decisions as well as the activities of the men serving under him.
Erawan War is notable not only for its detailed documentation of military operations, but also for its visual appeal. The book contains numerous rare photographs, in color as well as black and white. Some of the striking images are scenes of Commando Raiders with their advisers, as well as an impressive photo of Vang Pao firing a 4.2-inch mortar at enemy forces during Operation Phou Phiang II in late 1972. Also shown are colorful images of badges and insignia used by the troops, including the Commando Raiders, with translations of their mottoes.
Aviation enthusiasts will likely appreciate the illustrations of planes used in secret operations, including the Continental Air Services DHC-6 Twin Otter, the CIA's Air America DHC-6 Twin Otter and the Xieng Khouang Air Transport C-47.
Conboy's book is a valuable resource for readers seeking to deepen their knowledge of military operations in Laos during the Vietnam War and those who wish to gain insights into special operations and clandestine warfare in general. —Zita Ballinger Fletcher
This book review appeared in the Autumn 2022 issue of Vietnam magazine.
The erawan war, volume 2: the cia paramilitary campaign in laos, 1969-1974
By Ken Conboy Helion & Company, 2022
This post contains affiliate links. If you buy something through our site, we might earn a commission.