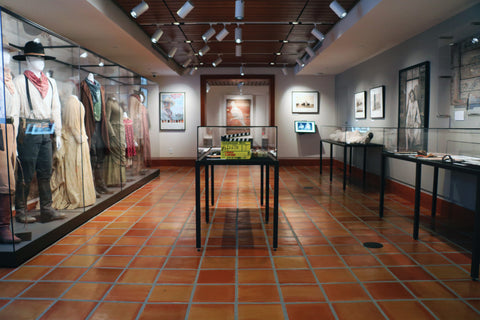 'Lonesome Dove' Remains One of the Most Popular Westerns. Here's Where the Props and Costumes Ended Up.
The Wittliff Collections, on the campus of Texas State University, San Marcos, include the production archives, artifacts and costumes of Lonesome Dove , arguably the most popular Western television miniseries ever filmed. Screenwriter William D. "Bill" Wittliff donated his own keepsakes and convinced others among the cast and crew to do likewise, including actors Robert Duvall and Anjelica Huston, production designer Cary White, costume designer Van Broughton Ramsey and composer Basil Poledouris. The result is a unique archival treasury that captures all aspects of production on the miniseries.
Lonesome Dove came to fruition after a chance meeting between Motown Productions president Suzanne de Passe and author Larry McMurtry in which de Passe asked McMurtry about his current writing project. McMurtry sent a manuscript of the unpublished Western novel to de Passe, who quickly snatched up the film rights. Published in 1985, Lonesome Dove spent 20 weeks on The New York Times bestseller list and received the 1986 Pulitzer Prize for fiction, among other awards.
The miniseries traces its roots to a feature screenplay titled The Streets of Laredo , written in 1972 by McMurtry and Peter Bogdanovich (of The Last Picture Show fame). Intended as a star vehicle for John Wayne, Henry Fonda and James Stewart, the project failed to materialize, so McMurtry decided to expand the treatment into an 843-page epic novel about frontier Texas.
Other Lonesome Dove items on display include the original hats beside photos of the actors who wore them.
A dozen years later, after de Passe secured the film rights, Motown Productions reached an agreement with CBS to air the Western as a 384-minute, four-part miniseries. De Passe hired native Texan Bill Wittliff, who had scripted the Westerns Barbarosa (1982) and Red Headed Stranger (1986), to write the screenplay. Wittliff also served as executive producer. Filming began in Austin in March 1988, moved to Del Rio, Texas, that April and Santa Fe in May before wrapping in July after 88 days of shooting.
Directed by Simon Wincer and starring Duvall, Tommy Lee Jones, Robert Urich, Danny Glover, Huston, Diane Lane and Rick Schroder, the miniseries aired in early February 1989 to high ratings and critical acclaim. Among many other awards, Lonesome Dove grabbed seven Emmy Awards—for directing, casting, costume, music, sound editing, sound mixing and makeup—a Peabody Award and two Golden Globes, one for best miniseries and the other to Duvall for best actor in a miniseries.
A set design sketch of the namesake town, home to the Hat Creek Cattle Co. and Livery Emporium.
Already a celebrated actor with a distinguished career, Duvall recalled his character, Texas Ranger Captain Augustus "Gus" McCrae, as a favorite role. "When I was doing The Godfather ," he said, "I knew we were doing something big. When I was doing Lonesome Dove , I got the same feeling. I've only felt that a couple of times in my life." Wittliff had similar feelings about the project. "Sometimes something just takes over," he recalled, "and Lonesome Dove is a good example of that. I think every element works.…It was just a beautiful combination of enormously talented people…[and] the final project was larger than all the people."
Befitting the film's iconic status, TSU's Lone some Dove Collection includes scripts, letters, memos, production forms, costume sketches, set sketches and blueprints, photography, props and costumes, as well as obsolete videotapes, audio cassettes and even a laser videodisc. The material traces the arc of the production, from the writing of the teleplay to budgeting, casting, planning, scheduling, filming, publicity and distribution. The archive mirrors the order of production and is broken down into the following categories: Story & Script, Producer's Unit, Production Staff, Casting, Art, Wardrobe, Production, Distribution, Publicity and Awards.
McMurtry's agent donated the typescript and final shooting script, the latter's title page signed by every actor who delivered a speaking line in the miniseries. The original director's slate used during production is also on display.
Of particular interest are the wonderful costumes and props. Alongside costume designer Ramsey's sketches are the original outfits worn by Duvall and Jones (who played Texas Ranger Captain Woodrow F. Call, McCrae's partner in the Hat Creek ranch), the patchwork pants and hat worn by Glover (portraying scout Joshua Deets) and the wardrobes of Huston (as McCrae's former love interest Clara Allen) and Lane (as soiled dove Lorena Wood).
The original "Gus and Call" wardrobe worn by Robert Duvall and Tommy Lee Jones.
A glass-enclosed prop case holds guns toted by Duvall, Jones and Glover, while an adjacent exhibit displays the actors' hats, including the one Duvall wore that inspired the wildly popular "Gus hat" still made by retail designers. Also on display are two iconic signboards from the set—the Hat Creek Cattle Co. sign and the "Lonesome Dove" sign from the exterior of the set's Dry Bean Saloon.
The newly expanded main gallery immortalizes the late McMurtry with a statue. Visitors can drop into a screening room to watch rotating episodes of the miniseries or browse the collection beforehand via a digital touch screen. You'll find the Lonesome Dove exhibit on the 7th floor of TSU's Alkek Library, at 601 University Drive in San Marcos. Admission is free. For more information call 512-245-2313 or visit thewittliffcollections.txst.edu/exhibitions.
this article first appeared in wild west magazine