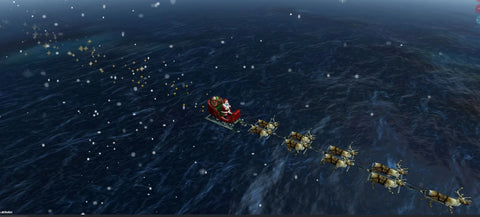 How Did NORAD Start Tracking Santa?
Every Christmas, children—and their parents—around the world gather to receive live updates from NORAD's Santa Tracker. This tradition has been going on for so many years that historically inclined minds might wonder how there got to be a NORAD and why they got the idea to start tailing Santa Claus in the first place.
The holiday tradition has Cold War roots. It started with a misplaced phone call to a secret U.S. military command center in Colorado.
Santa Meets Missile Defense
It is one of history's supreme ironies that the heartwarming legend of Santa and his magical airborne sleigh bringing gifts for children would cross paths with a military command hub tasked with defending America's skies from missiles. Details about how exactly the events took place have varied over time. However the basic facts are as follows.
Personnel manning the clandestine Continental Air Defense Command (CONAD) Operations Center in Colorado were minding their own business in December 1955 when an unexpected call came through to the desk of their commander, Col. Harry Shoup.
Shoup had joined the U.S. Army Air Corps in 1940 and had seen service in World War II, the Korean War and the Vietnam War. He was a fighter pilot and was awarded the Soldier's Medal for saving the life of a comrade.
Col. Harry Shoup, who saw service in three wars, got the surprise of a lifetime when a child called his desk at the CONAD command center. (U.S. Air Force)
The CONAD phone line was confidential. When Shoup answered the call, he expected the call to be from a senior military official. He was astonished to hear a child's voice asking if he was in fact Santa Claus.
Shoup initially thought it was a prank. "Somebody's playing a joke on me and this isn't funny," he later said he thought. "Can you repeat that please?" he asked the child.
He realized that the call was an error due to a typo printed in a Sears newspaper advertisement encouraging children to call Santa in addition to paying him a visit at the mall. Shoup dutifully pretended to be Santa Claus and instructed his staff to "report" Santa's location to any inquisitive youngster calling the command center.
The airmen guarding the skies from Soviet missiles were now bracing themselves for a bombardment of kids' Christmas wishes—and loving it.
The Debates
There are some variations in the story over time — for example, as to whether the phone call came in on Shoup's top secret red phone line, and about the exact sequence of events that took place during the first call. Regardless, Shoup and his staff rose to the challenge of using CONAD's military technology (wink, wink) to track and protect Santa Claus on his Christmas journey.
Shoup reportedly asked his public relations officer to announce CONAD's Santa tracking initiative to the press, with the words: "CONAD, Army, Navy and Marine Air Forces will continue to track and guard Santa and his sleigh on his trip to and from the U.S. against possible attack from those who do not believe in Christmas."
The whole tradition started due to a Sears ad beckoning kids to phone Santa which contained a typo in the phone number. (Courtesy of NORAD)
The latter phrase was a veiled reference to the Soviet Union, and it was included for more than just the sake of Cold War bluster. In fact, the "Santa tracking" endeavor was a public morale booster — lifting people's spirits at a time when Cold War tensions were very high and many ordinary citizens were worried about the possibility of a Soviet attack.
An Enduring Christmas Story
CONAD eventually transformed into NORAD (North American Aerospace Defense Command), but the holiday tradition stuck. Children are encouraged to call in to check on Santa's whereabouts on Christmas Eve.
More than 1,200 military service members answer the calls, and millions of children follow Santa's movements on the NORAD Santa Tracker website.
Despite the variations in the legend over time, the fact remains that Shoup's kindness in answering a misdirected telephone call from a child continues to spread holiday cheer among men and women in military service and members of the public today.
As for Shoup himself? He became affectionately known as the "Santa Colonel." His family says that it was his proudest achievement.