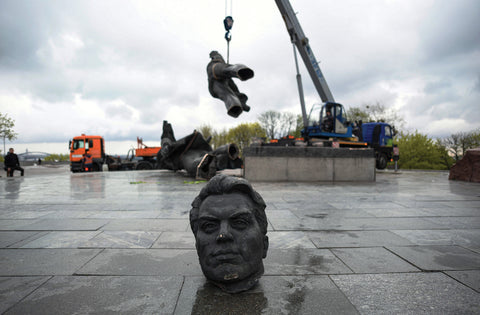 History Repeats Itself in Ukraine
In 1941, when the German war machine rolled into Soviet Ukraine, teenager Fania Rosenfeld fled for her life as Nazi occupation forces and homegrown collaborators targeted her and fellow Jews with execution, imprisonment, forced labor and other atrocities. A desperate Rosenfeld turned to her Gentile friend Maria Blyshchik, whose family hid Fania in their home during the occupation. Most of Rosenfeld's own family was killed during the war. Among the survivors, Fania relocated to Israel, where she married and raised a family.
This spring Rosenfeld's granddaughter, Sharon Bass, returned the wartime favor, opening her home in Israel to refugees Lesia Orshoko and Alona Chugai, granddaughters of Blyshchik who fled Ukraine in the wake of the 2022 Russian invasion. History continues to echo in recent headlines.
Ukraine was a bitter battleground in World War II, first as the Nazis invaded and then as the Soviets fought back. Then as now, loyalties were divided, some Ukrainians collaborating with the Nazis to fight the Russians and vice versa. Even today Ukraine's Azov Battalion counts neo-Nazis among its ranks and uses a variation of the Wolfsangel ("wolf's hook") insignia worn by Waffen-SS invaders eight decades ago.
Since the 1991 dissolution of the Soviet Union, Russia has had designs on Ukraine. The nations first went to war in 2014 as Russian forces allied with separatists in the Donbas region and annexed Crimea. When war broke out again this year, volunteers from other nations joined the fight, calling to mind foreign intervention during the 1936–39 Spanish Civil War. As tensions deepened this spring, officials in Kyiv dismantled a Soviet-era monument symbolizing Russian-Ukrainian friendship. As in the past, the conflict has been hardest on civilians. Nearly 6 million Ukrainians have fled the fighting, creating a refugee crisis not seen in Europe since World War II.
GET HISTORY 'S GREATEST TALES—RIGHT IN YOUR INBOX
Subscribe to our Historynet Now! newsletter for the best of the past, delivered every Wednesday.
Close
Thank you for subscribing!
Email
Submit