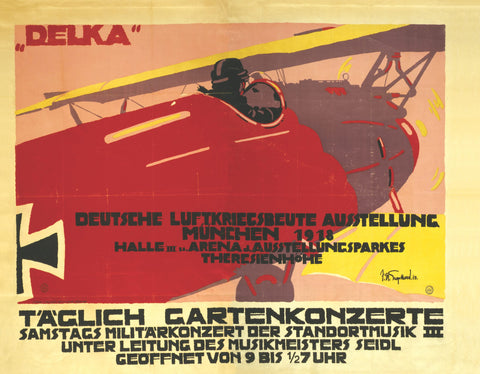 Did These WWI Posters Convince People to Join the War in the Air?
Powered flight had barely advanced past infancy by 1914, when the assassination of Austria-Hungary's Archduke Franz Ferdinand in Sarajevo sent Europe plunging into World War I. While ground forces in western Europe settled into a miserable stalemate inside a network of trenches that grew to zigzag across the continent, a new breed of warrior took the fight into the skies. Despite the aura of romance bestowed on these "knights of the air," the aviators' war was miserable in its own way. Pilots lucky enough to survive their training faced long odds once they reached the front, where the average life expectancy for fliers was no more than six weeks.
Still, the idea of fighting among the clouds excited the imagination, and that was something governments sought to exploit. By celebrating war's glamour, colorful posters attempted to lure new recruits into the flying services, raise money through war bonds and arouse patriotic emotions. The air war may have been hell for its participants, but it could be made to look exciting and romantic for those on the outside.
Click on a poster to launch the gallery.
This German poster, featuring an Albatros D.V, advertises a Munich exhibition of war booty captured by German forces. The artist was Julius Ussy Engelhard. Born in Indonesia in 1883, he died in Munich in 1964. (Library of Congress)
When World War I started in Europe, the United States was woefully unprepared for an air war, with a mere six airplanes in its military. By the time America entered the war in April 1917, that number had increased to around 200. Obviously, it still needed more airplanes—and men to fly them. In this poster by artist Charles Livingston Bull, an American bald eagle takes on a black eagle of Germany. Bull had studied wildlife and taxidermy before the war, making this a natural subject matter for him. (Library of Congress)
The action, in a poster by Otho Cushing, appears to be in training, which was dangerous enough for fledgling pilots. Illustrator Cushing joined the Army Air Service in 1917 as a captain and worked to camouflage airfields in Europe. (Library of Congress)
With this piece, artist Warren Keith appealed to his audience's patriotism and sense of adventure while also pointing out the appeal of a steady paycheck. The Nevada native had been an illustrator for the Hearst newspapers in San Francisco before relocating to New York. He drowned in Nevada in 1920. (Library of Congress)
By the time the Americans reached France, the star insignia on their airplanes had been replaced by red-blue-white cockades similar to Russia's, due to concerns that trigger-happy soldiers might mistake the star for a German cross. The airplane is a reasonably accurate depiction of a Standard J-1 trainer, a backup to the more famous Curtiss JN-4D Jenny. Belgian-born J. Paul Verrees did the artwork. (Library of Congress)
The airplane in the dramatic Russian poster at left is a Deperdussin TT, on which the French experimented in February 1914 with a mounting that allowed the observer to fire a machine gun over the propeller…by standing up. Although the airplane saw some action with the French, Russians and Italians in 1914-15, it is doubtful that this gun mount saw much use before the warring air arms found much better ways to install a forward- firing machine gun. (Corbis via Getty Images)
The text for this fundraising appeal translates as "Onward, Upper Bavarian Aviation Fund." The artist was Fritz Erler, who was an interior designer as well as a painter. His wartime propaganda posters were effective fundraisers for Germany. (Library of Congress)
The work of the Imperial Royal Flying Corps mechanics was not as action-packed as this Canadian poster indicates, but it was essential. The artist is Canadian Joseph Ernest Sampson. The airplanes appear to be a Nieuport 16 and a Fokker E.III Eindecker. (David Pollack/Corbis via Getty Images)
The text of this German poster translates as "And you? Subscribe to the War Loan." The image, another work by Fritz Erler, appealed to the emotions by depicting a wounded pilot with his arm in a sling. Erler's impact as a World War I propagandist for Germany has been compared to that of Uncle Sam artist James Montgomery Flagg's for the United States. (Library of Congress)
In this British poster by an unknown artist, British and German airplanes duel in the sky—with the "Beastly Hun" getting the worst of it. The aircraft seem to have been copied from an earlier poster—the state of the art had advanced considerably by the time the Royal Flying Corps and Royal Naval Air Service were amalgamated into the Royal Air Force on April 1, 1918. (GHI/Universal History Archive via Getty Images)
Pilots were essential, but so were the mechanics who kept the airplanes flying. Perhaps the idea of learning a trade that would translate to peacetime was a selling point in this American poster by Otho Cushing. Cushing had gained fame for his Teddyssey, depictions of President Theodore Roosevelt in scenes from Homer's Odyssey. (Library of Congress)