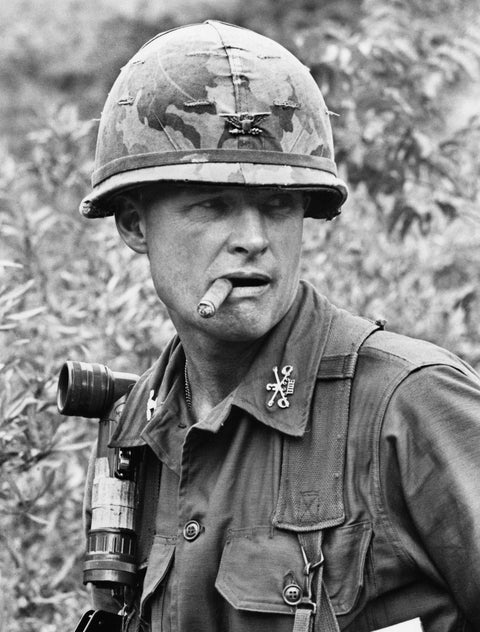 Confederate-Named Bases To Be Renamed For Vietnam War Heroes
Four men who served in the Vietnam War are in line to have U.S. Army bases named in their honor, according to a list released by the commission established by Congress in 2021 to rename bases named after Confederates. 
Of the nine forts due to be renamed, nearly half would be renamed after Vietnam veterans — which many see as a major step in U.S. history towards giving Vietnam War veterans greater recognition.
According to Politico, the commission received over 34,000 recommendations at the outset. The commission, which reports to the House and Senate Armed Service Committees, must present its final report to Congress on Oct. 1, 2022. Afterwards the report will be given to Secretary of Defense Lloyd J. Austin III, by whose authority the name changes can be made.
Here are the four Vietnam War candidates whose names await approval.
Fort Benning Becomes Fort Moore
Fort Benning, Georgia would be renamed for Lt. Gen. Harold "Hal" Moore. Moore, commanding officer of the 1st Battalion, 7th Cavalry, 1st Cavalry Division (Airmobile) became famous for his heroism in the Ia Drang Valley in 1965 and was awarded the Distinguished Service Cross. 
"For three days, Moore led a defense on the ground that combined prescient strategy with excellent tactics, and resulted in a secure position and repulse of the enemy," according to the commission.  
He became well-known for his bestselling book, "We Were Soldiers Once … And Young," which he co-authored with correspondent Joe Galloway. Moore was depicted by Mel Gibson in the 2002 film based on the book, "We Were Soldiers."
"He was a phenomenal man of great strength and character, courageous and like a father to his troops who got most of his boys out of there after he landed in a hornet's nest," Gibson said of Moore, according to the New York Times.  
The fort's new name would also honor Moore's wife, Julia, who lived on the base and was known for personally helping to deliver telegrams informing the families of her husband's soldiers when they were killed or wounded.
Fort Hood Becomes Fort Cavazos
Gen. Richard E. Cavazos would become the new namesake of Fort Hood, Texas. A sixth-generation Texan, Cavazos served in the Korean War and was stationed at Fort Hood before going to Vietnam, where he commanded the 1st Battalion, 18th Infantry Regiment.  
"When the Vietnam War began, then-Lt. Col. Cavazos was ready to bring men into battle once more: he commanded an infantry battalion, often fighting in the field — and frequently leading from the front," according to the commission.
Bill Fee, who served under Cavazos, called him a hands-on leader who stayed with his men through thick and thin: "Most battalion commanders stood in the rear or in a helicopter above to direct the battle … [He] had nothing to do with that. He fought on the ground with his troops during battle … he was on the ground with us as we were facing the North Vietnamese Army."  
In 1973, Cavazos became the first Hispanic-American to achieve the rank of brigadier general. In 1982, he became the first to receive the rank of four-star general.  
Fort Rucker Becomes Fort Novosel
CW4 Michael J. Novosel Sr. would become the new namesake of Fort Rucker, Alabama. Volunteering for active duty in the 1960s as U.S. involvement in the Vietnam War was sharply increasing, he resigned his commission in the U.S. Air Force to join the U.S. Army as a warrant officer and helicopter pilot. He served two tours in Vietnam as a "dustoff" pilot evacuating casualties from the battlefield amid enemy fire and dangerous conditions.
On Oct. 2, 1969, while serving in the 82nd Medical Detachment, Novosel performed 15 extractions and rescued 29 soldiers from combat zones in Kien Tuong province in the Mekong Delta, despite being repelled six times by enemy fire and wounded during his final rescue. He was 47. For that action, his heroism that day he received the Medal of Honor from President Richard Nixon on June 15, 1971.   
Fort Lee Becomes Fort Gregg-Adams
Fort Lee, Virginia, named after Gen. Robert E. Lee, would be named Fort Gregg-Adams, after two Black service members: Lt. Gen. Arthur Gregg, who served in Korea and Vietnam, and Lt. Col. Charity Adams, who served in World War II.  
Gregg, a military logistician, was an instructor at the Quartermaster Leadership School at Fort Lee before his promotion to lieutenant colonel in 1965. Assigned to command the 96th Supply and Service Battalion at Fort Riley, he arrived in Vietnam in May 1966.
Gregg later spoke with appreciation of his time in Vietnam. "We had a demanding mission, 24 hours a day. There was no time for people to get into trouble. Everyone was well-disciplined, worked hard, and had pride in the mission," Gregg said.
He went on to serve as director of logistics for the Joint Chiefs of Staff and later as deputy chief of staff of logistics for the U.S. Army. He retired in 1981.
The Other 5 Forts
The remaining forts would be named for President Dwight Eisenhower; a Black World War I soldier who single-handedly fought off two dozen Germans; a Union doctor who was the country's first female Army surgeon and first female Medal of Honor recipient; and a World War II technical sergeant who took out three German machine gun nests and a tank in one day. Fort Bragg, North Carolina, would be renamed Fort Liberty.