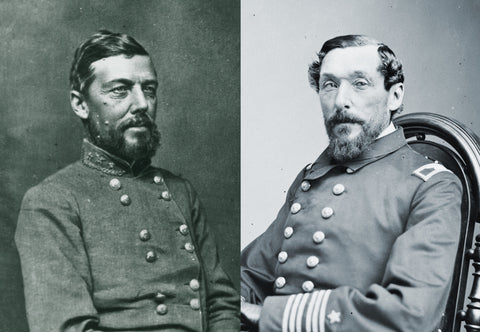 Brother vs. Brother in South Carolina
The Civil War certainly did split family loyalties, giving rise to the term "Brother vs. Brother."
The Drayton family is one example of that tragedy.
Thomas and Percival Drayton were two of five sons born to Anna Gadsden and William Drayton, a lawyer and U.S. Representative in Charleston, South Carolina.
William Drayton was a Unionist and in 1833 the family relocated to Pennsylvania following the Nullification Crisis. His son, Thomas, was the only one who remained in the South. Having graduated in 1828 from the United States Military Academy, he was a classmate of Jefferson Davis, who became his lifelong friend. When the Civil War broke out, Davis appointed Thomas Drayton as a brig. gen. and placed him in command of the military district at Port Royal, South Carolina.
Younger brother Percival Drayton, though, wore blue and joined the U.S. Navy in the 1850s. Although a soldier prior to the war, he became a Naval officer and took command of the gunboat USS Pocahontas. At the Battle of Port Royal on November 7, 1861, Percival was at the helm of Pocahontas when a U.S. Navy task force attacked Fort Beauregard and Fort Walker, both under the charge of Percival's brother Thomas at the time. Thomas Drayton's son, Lt. William Drayton, also fought with the Confederates in defense of the forts. Both forts fell to the Union.
In 1862, Drayton was assigned command of an infantry brigade composed of the 15th South Carolina Infantry, the 3rd Battalion South Carolina Infantry and three Georgia infantry regiments. Drayton's Brigade fought at the Second Battle of Manassas, the Battle of South Mountain and the Battle of Antietam.
Robert E. Lee, however, was displeased at Thomas' performance at those battles, and his brigade was dissolved and the regiments distributed to other commands. Drayton was transferred to the Western Theater and spent most of the remainder of the war in administrative posts.
In 1863, Captain Percival Drayton began a year serving as the Fleet Captain for the commander of the West Gulf Blockading Squadron, Rear Admiral David Glasgow Farragut. Percival commanded the squadron flagship, the big sloop of war Hartford, and took part in the August 1864 Battle of Mobile Bay.
The brothers remain separated in death. Percival Drayton died of an obstructed bowel in Washington, D.C., on Aug. 4, 1865. He is buried in Philadelphia's Laurel Hill cemetery. The U.S. Navy has named two destroyers in honor of Percival Drayton. Thomas Drayton lived until 1891, and is buried in Charlotte, North Carolina.