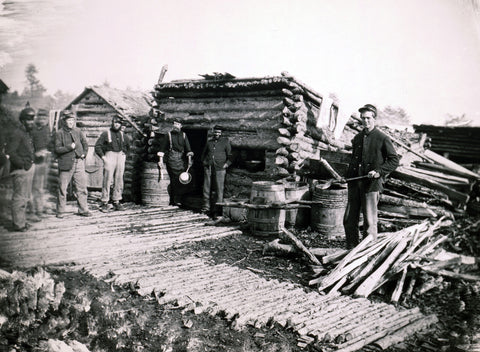 Winter Quarters
After the Union victory at Bristoe Station in October 1863, Maj. Gen. George G. Meade, commander of the Army of the Potomac, pressed Confederate Gen. Robert E. Lee and the Army of Northern Virginia south across the Rapidan River into Orange County.
The Union army settled in for the winter around Culpeper Courthouse in Culpeper County, Va., while the Confederates encamped along the south bank of the Rapidan. Located on the Orange and Alexandria Railroad, Brandy Station served as the key supply and passenger depot during the Federals' 1863-1864 winter encampment in the area. Here, a member of the 6th New York Heavy Artillery is shown chopping wood for winter huts and firewood to dig in for the long cold, winter.
"It was a very busy place," one soldier wrote home, "…from morning till night trains of army wagons were coming and going…waiting for their time to load." In May 1864, the Army of the Potomac left its comfortable winter quarters and headed off to fight the grueling Overland Campaign.
historynet magazines
Our 9 best-selling history titles feature in-depth storytelling and iconic imagery to engage and inform on the people, the wars, and the events that shaped America and the world.