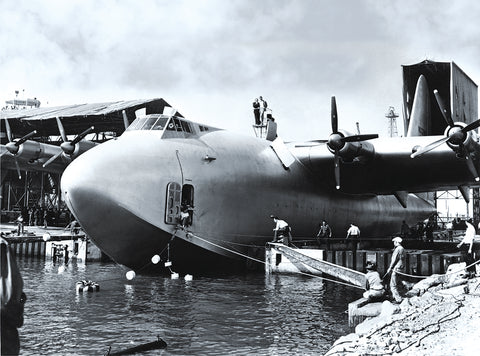 Why Howard Hughes Only Flew the Spruce Goose Only Once
Howard Hughes called it the H-4 Hercules—a fitting name for the largest and most powerful airplane of its time. The press, however, dubbed his prized creation the "Spruce Goose"—a name Hughes despised. But the label stuck, and the big airplane became another part of Hughes' enigmatic legacy—a story of how one man's uncompromising ambition propelled his remarkable ascendancy and eventual descent into madness. This year marks the 75th anniversary of the infamous seaplane's maiden (and only) flight.
During the early stages of World War II, German U-boats virtually feasted on Allied cargo vessels in the Battle of the Atlantic. These heavy losses prompted the U.S. War Production Board to explore alternative ways of transporting materiel and troops to Britain. Steel magnate Henry J. Kaiser, widely regarded as the father of modern American shipbuilding, proposed creating a fleet of flying cargo ships that could pass over the menacing Nazi wolf packs. Before he could do that, though, he needed a partner with aviation expertise. The gregarious businessman approached several leading aeronautical manufacturers, but they all passed on the scheme. Undaunted, Kaiser turned to Hughes. The celebrated movie mogul turned record-setting aviator had built his reputation by taking huge risks and proving naysayers wrong. Building a 200-ton flying boat should be no different.
Hughes' collaborator, shipbuilder Henry J. Kaiser, poses with a model of what would eventually become an 8-engine seaplane with a gross weight of 150-200 tons. (Bettmann/Getty Images)
Howard Robard Hughes Jr. was born on December 24, 1905, in Harris County, Texas. His father, a Harvard-educated lawyer, patented a specialized drill bit that let him pioneer the exploration of previously unreachable fossil fuel reserves. The invention led to hefty profits during the Texas oil boom, wealth his 18-year-old son later inherited as the sole heir of the family's estate. Not surprisingly, the footloose teenager dropped out of college and headed for the West Coast with his eyes set on the movies. The 1927 WWI drama Wings (winner of the first Academy Award for best picture) inspired Hughes to make his own air combat epic, but one that was bigger and better. Commencing production in 1927, Hughes' Hell's Angels __ endured a steady barrage of mishaps over the next three years. The costly setbacks involved no less than five directors (including Hughes), four fatalities, several flying accidents (also including Hughes), the 1929 stock market crash, and the advent of sound in the movies, which required reshoots and recasting. Nonetheless, Hell's Angels triumphed as a remarkable cinematic achievement (albeit with some clunky acting) upon its release in 1930.
The lanky Texan leveraged the movie's success when he set out to conquer his next industry: aviation. In 1932 he founded the Hughes Aircraft Company, a venture spurred by his interest in air racing. As a pilot, Hughes set several world airspeed records and won numerous awards, including the Harmon Trophy in 1936 and 1938, the Collier Trophy in 1938 and the Bibesco Cup of the Fédération Aéronautique Internationale, also in 1938. That year he completed an around-the-world flight in just over 91 hours, smashing the previous record by almost four days. Upon his return, New York City showered him with a ticker-tape parade. More prizes followed. He received a special Congressional Gold Medal in 1939 "for advancing the science of aviation and thus bringing great credit to this country throughout the world." Additionally, the young entrepreneur recognized the potential of commercial air travel and gradually became the majority shareholder of Transcontinental & Western Air (the predecessor of TWA). With his money and his aviation expertise, Hughes seemed like the perfect man for Henry Kaiser's project.
Seen here as it was being constructed, the H-4 was the largest airplane of its time. Unfortunately for Howard Hughes, the times were already passing it by, leading to controversy in Washington. The airplane's wooden structure also led to the popular sobriquet of "Spruce Goose," a name Hughes hated. In fact, the airplane was largely made of birch. (Bettmann/Getty Images)
Kaiser and Hughes made an odd couple. The portly industrialist was 23 years older than Hughes and had an oval, bespectacled face that gave him the air of a nearsighted bullfrog. Exuding a boisterous affability, he attended church regularly and preached wholesome family values. Hughes, a playboy who kept company with the likes of Katharine Hepburn, Ginger Rogers, Rita Hayworth, Lana Turner and Ava Gardner, did not. Kaiser was the son of German immigrants and began working at age 13 as an errand boy at a dry goods store in Utica, New York, honing a work ethic that would serve him well. In 1914, he founded a paving company that advanced the use of heavy construction machinery and later became the primary contractor for the Hoover, Bonneville, and Grand Coulee dams. He then revolutionized shipbuilding by mass-producing Liberty Ships for the United States government's war effort.
Kaiser's joint venture with Hughes secured an $18 million government contract for designing, engineering and constructing three flying boat prototypes. The project, however, came with a laundry list of restrictions. The mandate, for example, forbade them from using critical materials like steel or aluminum or hiring anyone already engaged in the war effort. And one more thing: the prototype had to be completed in 24 months. Kaiser boasted they'd have it done in less than a year. With marching orders in hand, the two disparate tycoons went to work in the fall of 1942.
Two engineers are dwarfed by the four right-wing Pratt & Whitney engines of the big boat as it is readied for taxi tests in Los Angeles Harbor on November 1, 1947. (Bettmann/Getty Images)
Hughes insisted that the airplane, originally designated HK-1, would have a gross weight of 400,000 pounds and be capable of shuttling 750 fully equipped troops or two 30-ton M4 Sherman tanks across the ocean. Progress was slow. In addition to his obsessive- compulsive tendencies, Hughes often disappeared for months at a time, engaging in a spate of activities that included his production of The Outlaw (1943), for which he applied his engineering skills to design a brassiere for star Jane Russell. The decade also saw Hughes survive two horrific air accidents. In March 1943, while test- flying a modified amphibian Sikorsky S-43, he crashed into Lake Mead in southern Nevada. Two men died, and Hughes had to be rescued by one of the other crew members. Three years later, his twin-engine XF-11 reconnaissance plane, which the U.S. Army Air Forces had commissioned, developed a propeller malfunction mid-flight. He attempted to land on a golf course but went down in a Beverly Hills neighborhood, destroying three houses. Hughes barely escaped the burning, mangled wreckage before being rushed to the hospital, where emergency room staff didn't expect him to live. He spent the next five weeks laid up with a collapsed lung, nine fractured ribs, broken vertebrae and third-degree burns. Miraculously, he managed to recover (but had to grow a mustache to cover scars on his upper lip). Hughes also developed a severe addiction to opiates—a condition that plagued him for the rest of his life.
Hughes sits inside the cavernous interior of his flying boat on November 6, 1947. He had intended to create an airplane that could carry 750 soldiers or two Sherman tanks. In the end, the aircraft ended up costing the government $18 million and Hughes considerably more than that, but it never carried anything except for its crew and a few passengers on its only flight. (J. R. Eyerman/The LIFE Picture Collection/Shutterstock)
By 1944, Kaiser had had enough of Hughes and dissolved the partnership. The self-made millionaire promptly returned to building conventional floating transports, eventually leaving his mark on everything from automobiles (Kaiser Motors) to x-rays (Kaiser-Permanente). Meanwhile, Hughes pressed forward with a team of handpicked personnel, headed by his chief designer, Glenn Odekirk. The government agreed to extend the deadline, but continuous delays and wasteful spending required Hughes to pump millions of his own money into what was now known as the H-4. Exact figures of the cost vary, owing to Hughes' notoriously secretive nature and penchant for exaggerating the truth, but the work continued.
Construction of the hull relied on an elaborate process using Duramold, a lightweight material like plywood in which layers of thin veneers were bonded together with waterproof resins. Its catchy nickname aside, the plane consisted mainly of birch and was covered in fabric. The enormous scale presented unique challenges—obstacles that Hughes resolved with ingenuity. The filmmaker set up projectors at his aircraft facility to display blueprints onto the floor, allowing his engineers to manufacture parts to size. Hughes's flair for innovation extended to pioneering the first hydraulically actuated control unit, which complemented a 120-volt D.C. electrical system to manipulate the huge control surfaces. A series of intercom radio points enabled immediate communication with engineers positioned inside the cavernous fuselage. Most impressively, the wingspan measured 320 feet 11 inches, a record that stood until 2019. Eight Pratt & Whitney R-4360 28-cylinder radial engines with 17-foot propellers generated a combined 24,000 horsepower for an intended range of 3,000 miles at a cruising speed of around 200 mph. The sheer size of the mammoth parts necessitated moving them from Hughes Airport to a larger facility in Long Beach, a slow, 28-mile trek in which power lines had to be lowered on streets along the way. The winged freighter finally neared completion in 1947, when the war had been over for two years. Leaders in Washington accused its famous builder of malfeasance and war profiteering.
On August 6, 1947, Hughes appeared before the Senate War Investigating Committee to defend himself against accusations that he had misused government funds. During five days of intense questioning in the sensationalized hearing, Senator Owen Brewster of Maine led the attack, declaring, "The Spruce Goose is a flying lumberyard and will never fly."
The defiant maverick came out swinging. "I am by nature a perfectionist, and I seem to have trouble allowing anything to go through in a half-perfect condition," Hughes said. "So if I made any mistake, it was in working too hard and in doing too much of it with my own two hands." Hughes continued to defend himself vigorously in front of a packed live audience. "The Hercules was a monumental undertaking…It is over five stories tall with a wingspan longer than a football field. That's more than a city block. I put the sweat of my life into this thing. I have my reputation rolled up in it, and I have stated that if it was a failure, I probably will leave this country and never come back, and I mean it."
Hughes flies his jumbo flying boat outside Long Beach on November 2, 1947, reaching an altitude of 70 feet for about one mile. His copilot, David Grant, was a hydraulic engineer who did not have a pilot's license. (AP Photo)
Coincidentally, Brewster had recently sponsored a national airline bill that would have handed Pan-American Airways—TWA's main rival—a monopoly on lucrative government airline passenger and mail routes. Hughes seized the opportunity to counterattack, accusing the New Englander of blatant corruption and collusion with Pan Am. The committee temporarily adjourned, having devolved into a media circus that saw Hughes emerge as the clear winner in the court of public opinion. He then returned to California and focused his undivided attention on completing the H-4. With crews working in shifts around the clock, the aviator set a date for a series of taxi trials. Vindication awaited.
Hughes was ready to unveil his creation on November 1, 1947. Sporting his lucky whiskey-colored fedora, Hughes manned the controls with the support of a 20-man crew. The seaplane also carried seven members of the press and seven other invited guests. But blustery conditions forced him to postpone the event for a day. On November 2, Hughes guided the silver-lacquered behemoth into Long Beach Harbor. A flotilla of small boats joined thousands of spectators lining the shores.
Hughes completed the first taxi at low speed before re-positioning for another run at 90 mph. The thunderous roar of eight 28-cylinder P&W engines filled the air, but persistent winds appeared to scuttle any attempts to get airborne. As a result, most of the newsmen requested to go ashore and file their stories. They'd soon come to regret it. On the third trial, Hughes ordered his flight engineer to "lower 15 degrees of flap" as he throttled into a stiff headwind. Suddenly, the Hercules flexed its muscles, lifting out of the water for 26 seconds and reaching an altitude of 70 feet before gently touching down.
In 1993 the Spruce Goose came home to roost at the Evergreen Aviation & Space Museum in McMinnville, Oregon. (Greg Vaughn/VW PICS/Universal Images Group via Getty Images)
James McNamara, a radio reporter who had remained on board to record a live broadcast, excitedly turned to the pilot. "Howard, did you expect that?"
"I like to make surprises," Hughes said.
The H-4 never flew again. Hughes insisted that it had been built for "testing and research and to provide knowledge which will advance the art of aviation." Whether the colossal beast could have ever become operational is debatable. Regardless, Hughes had proved his point: Brewster and the other critics were forced to eat their words. Over the years, Hughes made several modifications to his airplane, including adding a steel spiral staircase to the flight deck. He kept the H-4 in pristine condition and housed it in a specially constructed climate control facility at the cost of $1 million per year until the increasingly eccentric recluse died in 1976.
The Aero Club of Southern California later acquired the Spruce Goose and displayed it in a huge geodesic dome next to the ocean liner Queen Mary in Long Beach. But the airplane had one trip left. In 1993, following a serpentine journey by barge, train and truck, the historic aircraft arrived at its current home in McMinnville, Oregon. There, it commands top billing at the Evergreen Aviation & Space Museum, attracting visitors worldwide who come to marvel at the jaw-dropping sight—or even sit in the cockpit while wearing Hughes's iconic hat. Like its eccentric creator, the Spruce Goose is in a class by itself.
Christopher Warner is an actor and freelance writer. He has written extensively about military history, including the experiences of his great- uncle, who flew combat gliders in WWII. For further reading he recommends Howard Hughes: His Life and Madness by Donald L. Bartlett and James B. Steele, and Build 'Em by the Mile, Cut 'Em off by the Yard: How Henry J. Kaiser and the Rosies Helped Win World War II by Steve Gilford.