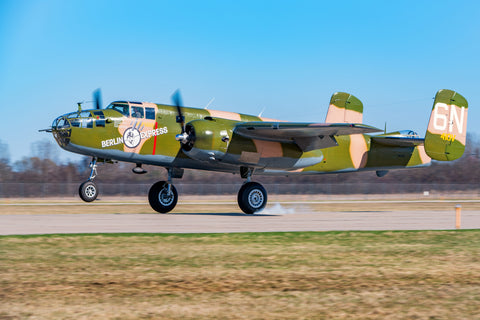 What Happened to Catch-22's B-25s?
Eighteen B-25s flew for Catch-22. One was deliberately destroyed during the production. Here's what happened to all these supporting actors.
Paramount Pictures paid to build a runway and realistic bomber base for the production. Frank Tallman said that the group takeoff in the film was one of the most dangerous stunts he ever flew. (Ronald Grant/Paramount Pictures/Alamy)
43-4432. This B-25H appeared in the film as Berlin Express and now, fully restored, flies for the Experimental Aircraft Association.
43-4643. Used as a camera plane by Tallmantz Aviation, this B-25H fell on hard times and crashed in Colombia in 1978 while allegedly being used to smuggle drugs.
43-28204. A B-25J that appeared on film as Booby Trap ; now named Pacific Princess , was last reported owned by B-25 Mitchell, LLC, in Missoula, Montana.
44-30077. The B-25J was originally known as Denver Dumper before Tallmantz renamed it Mouthy Mitchell. It is currently owned by Tom Reilly Vintage Aircraft of Douglas, Georgia.
44-29887. Luscious Lulu in the film, this B-25J is now in storage at the Smithsonian Institution's National Air and Space Museum as Carol Jean.
44-29366. A B-25J named aBominable Snowman for the movie. Now on display at the Royal Air Force Museum in London.
44-31032. The B-25J is now on static display at the March Field Air Museum in Riverside, California, as Problem Child.
Briefing Time is in the collections of the Mid-Atlantic Air Museum. (Tom Huntington)
44-29939. The B-25J now named Briefing Time remains in flyable condition and is in the collections of the Mid-Atlantic Air Museum in Reading, Pennsylvania.
44-30493. Named Dumbo in the movie, this B-25J is now on static display at Malmstrom Air Force Base in Great Falls, Montana.
44-30649. This B-25J is now on static display at Maxwell Air Force Base in Montgomery, Alabama, as Poopsie.
44-86701. A B-25J, Annzas also flew for the film Hanover Street ; it was destroyed when its hangar burned in 1990.
Like war, movie productions have long stretches of tedium between bursts of action. Here members of a B-25 crew (and the airplane's nose art) relax in the Mexican sun. (1970 Paramount ©1978 Bob Willoughby/MPTV Images)
44-86843. Built as a B-25J, Passionate Paulette is on static display at the Grissom Air Museum in Peru, Indiana.
44-30823. A B-25J used as a camera platform; flown as Pacific Prowler by Vintage Flying Museum in Fort Worth, Texas, until 2013 and then sold to the Mid America Flight Museum in Mt. Pleasant, Texas, where it flies as God and Country.
44-30748. A B-25J, it was restored to flying status as Heavenly Body and is operated by the Erikson Aircraft Collection of Madras, Oregon.
44-30801. A B-25J called Vestal Virgin in the film; now flown by the American Aeronautical Foundation of Camarillo, California, as Executive Sweet.
44-30925. This B-25J appeared as Laden Maiden ; it is being restored in Belgium by the Belgian Aviation Preservation Association.
One B-25 was deliberately sacrificed for the movie and its wreckage buried on site. (an Diego Air & Space Museum)
45-8843. A B-25J restored to just-able-to-fly status for the movie and then burned for the cameras. Its wreckage was then buried.
44-28925. The only combat veteran in the movie, the B-25J appeared as Tokyo Express. Now named How 'Boot That!? , it is on display at the Cavanaugh Flight Museum in Addison, Texas.