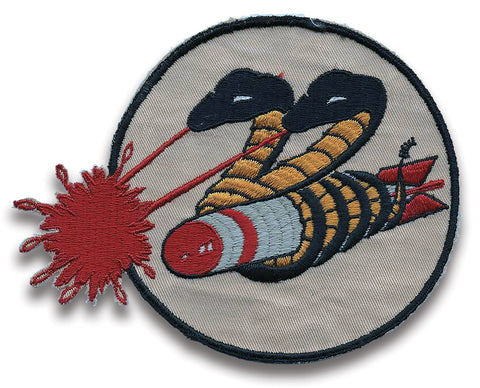 What Does a Two-Headed, Venom-Spitting Snake Have to Do With WWII?
I got this patch from my grandfather, who served in the European Theater. I have never been able to find out what outfit the patch is from. Any ideas? This has been driving me crazy for 45 years!
— Michael Nieskens, New Jersey
Group insignia with conjoined creatures were sometimes created by flying units that used twin-engine aircraft. For example, the men of the 339th Fighter Squadron, operating the Lockheed P-38 Lightning—which was powered by two growling V-1710 Allisons—wore the image of a gremlin astride a wicked- looking double-headed eagle on their jackets. But an exhaustive search of the legions of known Army Air Forces and U.S. Navy and Marine Corps squadron and group insignia from World War II came up snake eyes for this one.
It turns out that this is no unit patch at all. Instead, the emblem is associated with an army airfield. These patches are rarer than those of the flying units, but not unheard of. A bombardier school at Deming Field, New Mexico, used an image of the wicked Queen Grimhilde from Disney's Snow White plucking bombs from her cursed picnic basket. The flexible gunnery school in Kingman, Arizona, adopted Warner Brothers' Bugs Bunny, showing the cartoon rabbit intently firing his weapon into the desert skies.
Your grandfather's patch comes from Douglas Army Airfield, in Arizona near the border with Mexico, which was a training ground for pilots working to transition to twin-engine aircraft. Hence the coat of arms featuring a two- headed snake coiled around the explosive body of an aerial bomb.
In hopes of qualifying to operate twin-engine fighters or medium bombers in combat, student aviators started small, at the controls of somewhat forgiving Cessna Bobcats and Curtiss-Wright Jeeps. Over time, the curriculum called for the use of more weighty and complex aircraft, including the Beechcraft C-45 Expeditor. Finally, most airmen at Douglas moved up to a flight line populated with nearly combat-ready North American B-25 Mitchell medium bombers.
Graduates served all over the globe as army aviators, flying the Lightning fighters, Douglas C-47 Skytrain cargo planes, and Martin B-26 Marauder bombers that helped turn the tide against the Axis in Europe, the Pacific, and beyond. While most of these men added the emblems of combat units to their flight jackets, surely a few of them kept the tattered insignia of their alma mater to remember their days training at Douglas.
The sunbaked airfield is still there today, now known as Bisbee Douglas International Airport. You can find it on your aeronautical charts under the inelegant FAA location identifier of DUG. It's a general aviation facility with the impressive moniker of international airport—after all, the Mexico border is a mere five miles from the end of the runway _. _
this article first appeared in world war II magazine