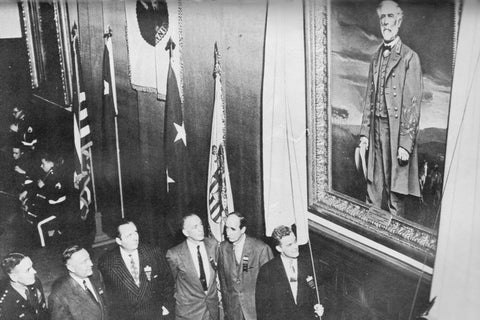 West Point Expected to Take Down Robert E. Lee Portrait
A 20-foot portrait of a uniformed Confederate Gen. Robert E. Lee — with a slave guiding his horse in the background – has remained towering over cadets in the library of the U.S. Military Academy, better known as West Point. 
That is most likely to change, and soon, according to Politico.  
A commission that was established to rename military bases that honor Confederate generals is expected to also recommend that West Point remove the portrait of Lee. 
It would be a remarkable move at an institution where Lee has been revered as a military figure for generations. 
For example, in his 1952 dedication speech at the unveiling of Lee's portrait during the celebration for the 150th anniversary of the school's founding, the famed World War II Gen. Maxwell Taylor said that "it appears high time … to acclaim with pride the fact which every schoolboy knows — that Robert E. Lee was not only a distinguished graduate of West Point, a superintendent who contributed notably to the development of the academy, a brilliant officer of the United States Army worth to be offered the supreme command, but also the immortal battle leader of the Confederacy, whose deeds will stir men's souls as long as future generations find time to read the history of this country." 
In a June 2020 op-ed in The Atlantic, retired Gen. David Petraeus delineated how thoroughly woven the veneration of Lee is at his alma mater, writing that "West Point honors Robert E. Lee with a gate, a road, an entire housing area and a barracks, the last of which was built during the 1960s." 
Removing the Lee portrait would not be an erasure of Lee from West Point or American history, Petraeus said, but "remembering Lee's strengths and weaknesses, his military and personal successes and failures, is different from venerating him." 
It is expected that the commission will recommend West Point remove anything that commemorates Lee in connection to the Confederacy. Controversially, however, anything "historic" may remain. That includes a Lee portrait gifted to the academy in 1931 by the Daughters of the Confederacy and displayed in the cadet mess in Washington Hall. That painting depicts the future Confederate general in the uniform of a lieutenant colonel of cavalry, a rank he held before the Civil War and while superintendent of the military academy from Sept. 1, 1852, to March 31, 1855. 
A wave of Confederate statues and portraits have been removed in recent years, including one of Lee that was removed from in Statuary Hall at the U.S. Capitol in 2020.   
The commission will submit its recommendations, which have not yet been finalized, in a written report to Congress by Oct. 1, as mandated by the fiscal 2021 National Defense Authorization Act.