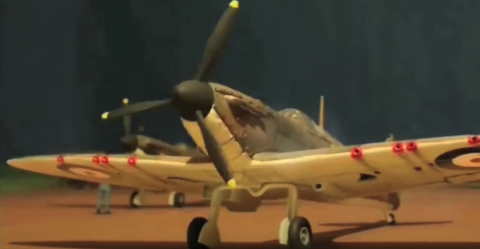 Watch the Battle of Britain Like You've Never Seen It Before — in Miniature Form
Each year, the Royal Air Force holds a Battle of Britain Thanksgiving Service at London's Westminster Abbey to remember the defense of England against the German Luftwaffe in the summer and fall of 1940. (The 2022 service was scheduled for Sunday, Sept. 18, but Queen Elizabeth II's funeral at the abbey on Sept. 19 forced its cancellation.) Starting in July, the pilots of the RAF's Supermarine Spitfires and Hawker Hurricanes held out against an onslaught of German aircraft that aimed to bomb Britain into submission and open the doors for a Nazi invasion. In August 1940, even as the battle was being waged in the skies over England, Prime Minister Winston Churchill saluted by RAF by saying, "Never in the field of human conflict was so much owed by so many to so few."
The battle was also commemorated in the epic 1969 film "The Battle of Britain," which was directed by Guy Hamilton, included some of the best aerial battle scenes ever shot for the movies and starred a slew of big-name actors, among them Laurence Olivier, Michael Caine, Robert Shaw and Christopher Plummer. Less well known is a true labor of love inspired by the original movie. The 20-minute "Battle of Britain __ 1.72 _" _ is a stop-motion film featuring 1:72 scale models and tiny human figurines. It was made by Jerónimo Martínez Molina of Escorpio Pictures and Entertainment in Madrid, Spain. The original production searched high and low to find aircraft for its cameras, and found its Me-109s — actually the Hispano Aviación HA-1112 Buchón — in Spain. It appears that Molina simply built his.
While it may lack the widescreen sweep of the original and is almost two hours shorter, the 1:72 version deserves recognition.
historynet magazines
Our 9 best-selling history titles feature in-depth storytelling and iconic imagery to engage and inform on the people, the wars, and the events that shaped America and the world.