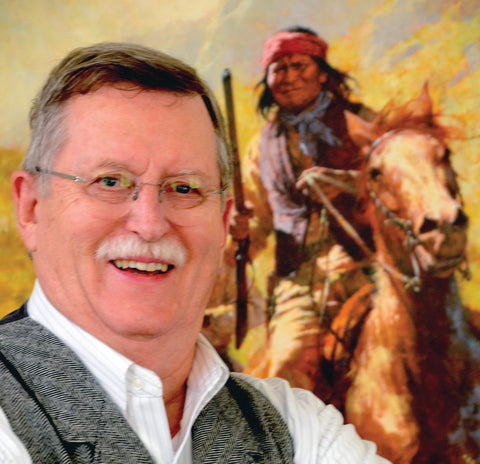 Was Geronimo Really a Good Leader?
Author W. Michael Farmer believes the story lines of his historical novels should adhere to known facts, as such an approach "helps hold the reader's interest into what happened and helps them ask good questions about the history." At times that belief has led him to write companion books—a history and a novel—on the same topic. Farmer based his first novel, Hombrecito's War , on the unsolved 1896 murders of New Mexico Territory legislator and attorney Albert Jennings Fountain and his 8-year-old son, Henry. To that historical plot-line, however, the author added a fictional Apache character. More recently, Farmer published his history Geronimo: Prisoner of Lies, Twenty-Three Years as a Prisoner of War, 1886–1909 _ (2019), followed by his novel _The Odyssey of Geronimo (2020), and he is working on other books focused on Apache stories both historical and fictional.
What prompted you to research and write about Apaches?
When I wrote my first novel, about the Fountain murders, I used a Mescalero tribal policeman character, Yellow Boy, as the practically invisible man who saved the child [Henry Fountain], became his mentor and taught him much about the world. To develop Yellow Boy's character, I started researching the culture and history of the Mescaleros. It was an eye-opening experience, especially when I realized how different Apache culture is from that of the Plains Indians. The deeper I got into researching the Apaches, the more I wanted to know. In the process I discovered that if you want to understand Apache history, you must first understand their culture.
GET HISTORY 'S GREATEST TALES—RIGHT IN YOUR INBOX
Subscribe to our Historynet Now! newsletter for the best of the past, delivered every Wednesday.
Close
Thank you for subscribing!
Email
Submit
What intrigued you about the Fountain murders?
What happened to the Fountains is a great mystery, and like most folks in New Mexico, I was curious about their disappearance. In the introduction to [his 1958 novel] Warlock Oakley Hall said that the business of fiction is to find the truth, not the facts. I decided to write a fictional story about the murders that might give me some insight into who the murderers were after I read [C.L.] Sonnichsen's [1960] book Tularosa , which gave [suspect] Oliver Lee the benefit of the doubt, whereas Leon Metz, in his biography of Pat Garrett, claimed Lee was guilty. I never intended to write a novel, just a story of maybe 10,000–20,000 words for my own benefit that might give me a good idea of who the murderers were. I started writing and researching. When I finished the story, it was 18,000 words, and I had learned how much I enjoyed writing.
How did you approach writing from Geronimo's point of view?
I put in hours of research into Apache culture and history. I read what George Wratten, the famous interpreter for the Army with Apaches in captivity, had Geronimo saying in English to, for example, Generals George Crook and Nelson Miles, Teddy Roosevelt and artist Elbridge Ayer Burbank and at church services when he decided to become a Christian. I learned what a terrifically complex and fascinating character Geronimo was. I wanted my readers to understand his humanity, why he thought the way he did, and to see things as he saw them. To tell his story from his point of view was the most straightforward way to convey his humanity, warts and all, and I wanted the history in the story to be accurate.
How do you rate Geronimo as a tactician?
Geronimo was a brilliant and fearless tactician, but he sometimes made very bad judgment calls.
For example, when he and Juh (chief of the Nednhi Chiricahuas, with strongholds in northern Mexico) left San Carlos in September 1881, they had over 375 people with them and crossed the border with the loss of two men, two women and three children while being chased by hundreds of cavalry and Apache scouts from San Carlos. Six months later, Geronimo led the warriors who forced about 350 of Loco's people out of San Carlos and got them to the border while again being chased by hundreds of cavalry and Apache scouts, and again he lost no more than five or six people.
After they crossed the border, he let them stop and rest, against the advice of Chato, Naiche and Kaytennae. Geronimo assumed the cavalry wouldn't cross the border (legally they couldn't), but the cavalry crossed the border anyway and two days later attacked them in a seven-hour fight that killed 14 warriors and several women. The next day, the Apaches were ambushed by Mexican soldiers waiting for them at Aliso Creek. Most of the Apaches escaped after another long day of fighting between two parallel arroyos—one filled with Apaches, the other with Mexicans. But Loco lost nearly 40 percent of his people—most of them women and children—in the two days of fighting.
In 1886, after Geronimo and Naiche broke away from those who surrendered to General Crook in late March, they had 18 men and 22 women and children. The army under General Miles chased them across southern Arizona and northern Sonora for five months with 5,000 soldiers. The Mexican military chased them with 3,000 soldiers in Sonora and Chihuahua, and there were numerous civilian posses on both sides of the border. The Apaches didn't lose a single warrior captured or killed during the five months before Geronimo and his warriors surrendered.
historynet magazines
Our 9 best-selling history titles feature in-depth storytelling and iconic imagery to engage and inform on the people, the wars, and the events that shaped America and the world.