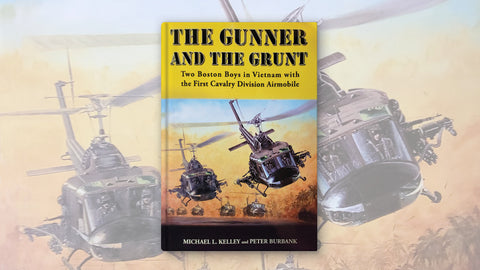 War's Boston Buddies
For all the unfond memories it may leave in the different recruits who undergo it, basic training is designed to be a universal experience, primarily meant to reorient the individual toward the team. Then, as soldiers earn a military occupational specialty their experiences are individualized again, but within the context of their assigned unit.
A guerrilla war that escalated into a sprawling, complex conflict fought on land, sea and air, the American war in Vietnam produced as many narratives as participants, each one different, yet with elements of common experiences, adding a facet to the overall history of the war like a piece in a jigsaw puzzle.
The Gunner and the Grunt adds its own special twist by creatively combining into one book the individual experiences of two members of the 1st Cavalry Division (Airmobile) in 1965-66—one a specialist in helicopters, the other an airborne infantrymen transported into and out of battle by choppers.
![Photo of The Gunner and the Grunt: Two Boston Boys in Vietnam with
the First Cavalry Division Airmobile book cover](https://www.historynet.com/wp-content/uploads/2022/07/Gunner-and-the- grunt-BOOK-COVER-flat-AUTUMN-VIEP-22-640x1024.jpg)The Gunner and the Grunt: Two Boston Boys in Vietnam with the First Cavalry Division Airmobile
By Michael L. Kelley and Peter Burbank
King Printing Co., 2020
Although both came from Boston, Michael L. Kelley and Peter Burbank had not met before they went to Vietnam. By the time their tours of duty were up, they had forged a fraternal bond, the kind applicable only to troops who had served in the same unit, in their case the 9th Cavalry Regiment (Reconnaissance).
The Gunner and the Grunt interweaves the individual experiences of Kelley and Burbank, from the uncertainties of enlistment to the struggles of post- traumatic stress disorder, including all the wartime ordeals in between.
Even while displaying their two "little pictures," however, they pause on occasion to place themselves within the "big picture" of their units, as the Bostonians write about the officers and men who served alongside them and the major operations in which the 9th Cavalry distinguished itself.
Although it is a self-published book, The Gunner and the Grunt is a comprehensively researched historic document on one year's activities for the 9th Cav and the 1st Cavalry Division, worthy of gracing their unit libraries.
That the book simultaneously succeeds on the individual soldier level makes it a standout for any reader with an interest in the airmobile aspect of the Vietnam War. —Jon Guttman
This book review appeared in the Autumn 2022 issue of Vietnam magazine.