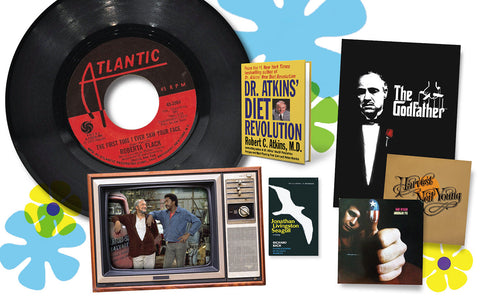 Time Capsule: What Were the Most Popular Movies, Music, TV Shows, and Books in 1972?
TV Shows
Films
Singles
Albums
Books
Highest Rated TV Shows
(1972–73 season)
Top Grossing Films
(Domestic box office, in 1972 dollars)
this article first appeared in vietnam magazine
Facebook: @VietnamMag | Twitter: @VietnamMag
Top Singles
Top Albums
Books
If you buy something from one of these links, we may earn a commission.
Bestselling Fiction
Bestselling nonfiction
Chart Sources: TV shows: CTVA-The Classic TV Archive/Nielsen Ratings; Films: The Numbers (Movie Business website); singles: Billboard, Year-End Charts, Hot 100 Songs; albums: Billboard, Year-End Charts, Billboard 200 Albums; fiction: Literary Hub/Publishers Weekly; Non-fiction: Literary Hub/Publishers Weekly. Credits record: Guy Aceto Collection; TV: NBCUniversal via Getty Images; Books: Historynet archives; Godfather Photo 12/Alamy: Albums: Guy Aceto colection
This article appeared in the Autumn 2022 issue of Vietnam magazine.
GET HISTORY 'S GREATEST TALES—RIGHT IN YOUR INBOX
Subscribe to our Historynet Now! newsletter for the best of the past, delivered every Wednesday.
Close
Thank you for subscribing!
Email
Submit