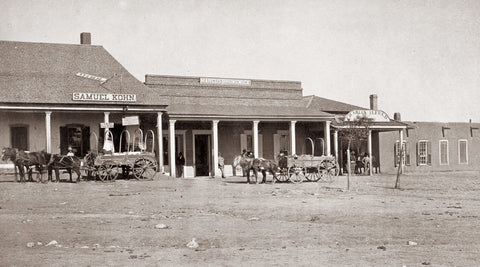 This Widow Took Care of Business in New Mexico Territory
In a discussion of life on the Western frontier relatively few women pop to mind. Even the well-known phrase "Go West, young man," popularized by newspaper editor Horace Greeley, omits women from the story of westward expansion. Certainly, women were there, often toiling away anonymously to raise families and crops in harsh environs. Yet few remain household names. Exceptions include hard-drinking, tough-talking Calamity Jane and, to a lesser extent, hard-drinking, quick-shooting Stagecoach Mary. One genuinely ladylike Western pioneer who has largely escaped notice is Yetta Kohn, who for decades in the late 1800s and early 1900s was a dynamic force on the plains of New Mexico (which became a state in 1912). A successful businesswoman, rancher and devoted mother, Kohn's story has all the fabric of what constitutes an American legend.
A Jewish immigrant from Bavaria (born Yetta Louise Goldsmith on March 9, 1843), she found success both as a young wife and mother and as a widow, and she did so without a formal education or parental guidance. Yetta's very American story began in 1853, when the 10-year-old disembarked in New York from the steamer William Tell in the company of older family members, possibly siblings. They eventually made their way west, as Yetta's name appears beneath theirs in the 1860 census as a 17-year-old resident of Leavenworth, Kansas Territory (admitted to the Union months later as the 34th state).
That year she married fellow countryman and Jewish immigrant Samuel Kohn, and the couple journeyed west in a covered wagon to start a new life together in gold rush–era Denver's Cherry Creek neighborhood. There she gave birth to sons Howard and George, who as adults would become instrumental in Yetta's later success. By 1865 the family of four had returned to Leavenworth, likely due to a flood that had devastated Cherry Creek in May 1864. Over the next several years Samuel entered the wool-and-hide business, and Yetta delivered three more children. Two died in infancy, while daughter Belle survived.
In 1869, soon after Belle's birth, the growing family returned west, following the Santa Fe Trail to Las Vegas, New Mexico Territory, some 40 miles east of Santa Fe. There Samuel opened a wool-and-hide store on the town plaza, supplying the garments necessary for life on the frontier. In the 1870 federal census Yetta, a seamstress, is the only woman in town who listed an occupation other than homemaker. A year later she gave birth to son Charles.
On Sept. 29, 1878, Samuel died at age 40. The cause was unrecorded. He left Yetta with four children, ages 7, 9, 15 and 17. Together with eldest son Howard, Yetta kept the wool-and-hide store viable through 1882. She then moved the clan to a homestead in the since vanished community of La Cinta, 60 miles to the east-southeast. Applying the lessons she'd learned running the family business in Las Vegas, Yetta soon opened a grocery store, became the postmistress and began purchasing more land on which to graze cattle. By 1887 she had formed a partnership with two local investors and her three grown children (Howard, George and Belle) and was running 4,000 head of cattle on open range in San Miguel County. She also helped establish a social club and once helmed a flatboat across the Canadian River to get club members to an outing.
Inevitably, the maturing Kohn children scattered. In 1885 Belle and Charles left for school in Kansas and New Jersey, respectively, soon followed by college-bound Howard and George. In 1888 the family sold their stock to rancher Wilson Waddingham. Through the turn of the century Yetta continued to buy and sell land in Las Vegas and Kansas while bouncing between Las Vegas and addresses in Wichita and New York.
In 1900 Yetta and George rendezvoused back in Las Vegas, where Charles soon joined them to start a general store. By 1902 Howard had united with his mother and brothers in time to make a final move south to the rail stop of Rountree, New Mexico Territory (20 miles west of Tucumcari), where they purchased a mercantile business from town namesake Henry Rountree and acquired more land through the homestead acts.
The Kohn matriarch poses front and center with family members: (standing from left) son Howard, daughter Belle and son George; (seated from left) son Charles, Yetta, Stanley (Belle's son) and Albert Calish (Belle's husband).
That year a lingering drought ended, the town was reborn as Montoya, and Yetta and her three sons not only kept the mercantile store running, but also opened a land company, a bank and a ranch. The businesses owned by mother and sons were known as Kohn Bros., while the ranching component was called Yetta Kohn & Co. By 1904 the family was again intact, as Belle, husband and son joined her mother and brothers in Montoya and started their own ranching operation. For a dozen years good business decisions and astute land purchases allowed the family to flourish.
Then double tragedy struck. On Jan. 30, 1916, just four days after his marriage to 24-year-old Hannah Bonem, Charles died at age 44 in Kansas City, the first stop on the couple's honeymoon, from an infection in an abscessed tooth. Three days later, a grief-stricken George collapsed and died of heart failure. He was 53. A front-page profile in the Feb. 3, 1916, Tucumcari News and Tucumcari Times paid tribute to the brothers and, by inference, to how well Etta had done as a widow and single mother:
"The esteem in which these brothers were held is best attested by the deep sympathy universally expressed by the community. Every business house was closed by common consent…and remained closed while the bodies awaited the last sorrowful rites.…
"No more beautiful tribute could be paid to the life and memory of these brothers than was manifested in the sorrow of the native people with whom their business had largely been transpired and who came in numbers…to unite their sorrows in one common grief.
"Upright, congenial and generous, Charley and George Kohn endeared themselves to all worthy persons with whom they were acquainted."
Scarcely a year later, on April 24, 1917, Yetta—or "Mother Kohn," as she was affectionately known in Montoya—died at age 74. Family oral history records that her passing had been "hurried along" by the circumstances of her sons' deaths. The April 27 Santa Fe New Mexican was especially generous in its praise of the late matriarch:
"She had an especial faculty for comforting the unsuccessful without injuring their pride, and hundreds of needy will miss her ever-ready response to their appeals.
"The home life was her greatest pleasure and ideal, and legions have been made happy through an [ sic ] hospitality which has become proverbial. A real type of womanhood has departed, but her good influence will live always."
After the deaths of Charles, George and Yetta, Howard Kohn took over the family businesses and followed his mother's habit of purchasing land around Montoya. In 1923 he married his bookkeeper, Clara McGowan, and they named their only child, daughter Yetta, in honor of her grandmother. When Howard died in 1933 from the effects of smoke inhalation after battling a blaze at the Kohn ranch, Clara took over operations. Like her mother-in-law, she proved a sharp yet ladylike businesswoman. In 1946 Clara's ranching enterprise, by then known as the T4 Cattle Co., purchased 117,000 acres in the Mesa Rica section of the historic Bell Ranch, which abutted the Kohn property. After the sale T4 land totaled 180,000 contiguous acres. Succeeding generations continued to acquire land, and today the 220,000-acre T4 is one of the largest private ranches in the country.
this article first appeared in wild west magazine